Cefn Mawr's Holly Bush Inn museum plan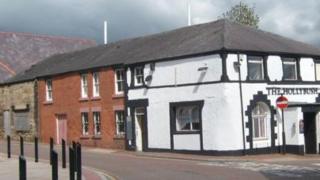 A community group running a Wrexham village pub have submitted plans to convert part of it into a museum to celebrate the area's industrial past.
The Plas Kynaston Canal Group (PKCG) in Cefn Mawr took over the community's Holly Bush Inn last year.
Now they want to add a restaurant and restore and reopen a shop at the rear of pub that served the community from the 1840s.
Wrexham council planners have yet to make a decision on the plans.
PKCG was set up by residents to try to revive the fortunes of the area after factory closures and job cuts from 2009.
They originally came together to try to re-instate a filled-in section of canal to attract visitors to their village which is a short distance from Pontcysyllte Aqueduct on Llangollen Canal after it became a world heritage site in the same year.
If the pub plans are accepted, PKCG members hope to realise part of their aspirations by creating a museum to encourage Llangollen Canal visitors to make the short trip up the road to see their community.
Light show
Ironmaster and engineer William Hazeldine, whose Plas Kynaston foundry, Cefn Mawr, made the troughs for the aqueduct, was one of many business people to thrive during the 19th Century in the villages north of the aqueduct.
A tramway system running from the Trevor basin at Froncysyllte encouraged more industrial development.
The oldest part of the Holly Bush is said to date back over 200 years and was apparently constructed from the stone spoil produced by the construction of Pontcysyllte Aqueduct.
And the stone used to build Thomas Telford's towering aqueduct passed the pub using the community's horse-drawn tramways during its construction between 1975-1805.
A group spokesperson said: "We are looking at the possibility of establishing a real horse drawn taxi service to run between the Pontcysyllte Aqueduct and Cefn Mawr, and the Holly Bush Inn next year."
A special light show and fireworks display takes place at Pontcysyllte Aqueduct on 12 July to mark the fourth anniversary of an 11-mile (17km) stretch of Llangollen Canal and the landmark being awarded world heritage status.