Corwen Pavilion: Campaigners vow to fight closure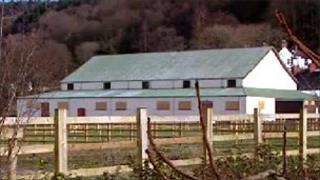 Campaigners opposing proposals to demolish a 102-year-old pavilion have vowed to keep fighting, despite the Charity Commission saying it can not intervene to save the building.
Corwen Pavilion closed in 2010 due to health and safety reasons.
Denbighshire council has said it would cost £1.3m to repair and recommended demolition and building a new venue.
Demolition was delayed by an injunction. Campaigners contacted the commission, which says it cannot help.
Following the centre's closure, council officers helped form a working group to create a charitable company to have the land transferred to it.
Demolition was due in April 2011 but was delayed by court injunction to give the campaign group Save the Pavilion time to come up with a viable financial plan.
The trial regarding the court injunction against demolition was due in December 2011 but was delayed due to lack of consent from the Charity Commission.
However, in a statement to BBC Wales, the commission says it does not require Denbighshire council, as trustee, "to maintain the pavilion, if it concludes that it is beyond economic repair".
The statement adds: "We are aware of local concerns about the possible demolition of the pavilion.
"However, the commission cannot intervene in the daily administration of a charity. It is for the trustee to make decisions about the charity's future acting in its best interests."
A council spokesperson said the authority would not comment because the commission's statement had not been submitted to them officially.
The Save the Pavilion group says it will discuss future moves in the next few days.