Explosive chemicals removed at Euticals' Sandycroft factory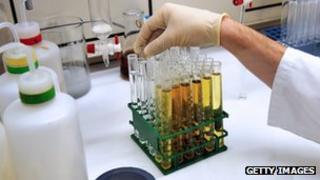 The "vast amount" of a large quantity of potentially explosive chemicals has now been removed from a Flintshire pharmaceuticals factory.
Experts have been taking isosorbide dinitrate, known as ISDN, from the Euticals plant in Sandycroft, since it was discovered last November.
It has been removed and treated by specialist contractors off-site.
Now, Flintshire council says such a small quantity exists it can be treated locally.
ISDN is used to make angina medication.
A council statement said: "This final stage of the treatment will bring to a conclusion the programme of work which has been carried out without incident.
"There has been no disruption caused to the local community and neighbouring businesses during this programme of supervised work, and the risks on site have been significantly reduced."
The last stage of the removal and disposal work will take place in a nearby but more remote location away from properties which will be monitored by the agencies involved.
They include the Health and Safety Executive, Natural Resources Wales, police, fire and the health service.