'Horse hoarder' Clwyd Davies: Candlelit beach vigil held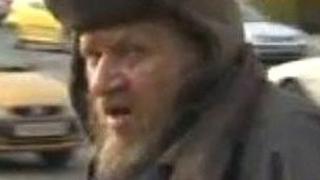 A candlelit vigil has been held for a man who has been missing for more than two months.
Clwyd Davies, 69, from Acrefair near Wrexham, became known as the "horse hoarder" and has not been seen since 7 April.
His friends and supporters staged the vigil on Talacre beach in Flintshire to mark his disappearance.
He went missing after appearing in court for neglect of horses he kept on his land at Trefynant Park in Acrefair.
Mr Davies admitted neglect of six horses at Wrexham magistrates' court on 5 April and was banned from keeping the animals for five years.
His close friend and vigil organiser Michelle Crowther said beforehand: "There will be prayers, poems and songs and a chance for people to meet and talk about Clwyd's life - anyone can come along.
"It is difficult that he hasn't been found for such a long time and it's hard to know what to think.
"We feel we wanted to do something collectively to show that we care.
"He might then hear and know we are thinking of him and know that we care.
"We can't let this go without marking it in some way and there has to be recognition that something has happened."
The vigil was held on Saturday night.
Mr Davies was featured in a Channel 4 TV documentary called The Horse Hoarder in January.
His disappearance was also subject of a documentary on S4C on Wednesday.
There have been several unconfirmed reports that Mr Davies has been seen in the north west of England.
Det Insp Arwyn Jones, who is leading the inquiry, said: "We would again ask members of the public who may hold any information that may assist the inquiry to come forward, particularly anybody who knows Clwyd, and who may have any information about his life or movements, past or present."
Mr Davies is 5ft 11ins (1.8m) tall, of heavy build and normally has a thick beard.
He usually wears jeans, a fleece top and woolly hat and is well known in the local community.
North Wales Police said people with information could contact them on 101 or Crimestoppers on 0800 555111.