Alzheimer's choir helps people with dementia in Wrexham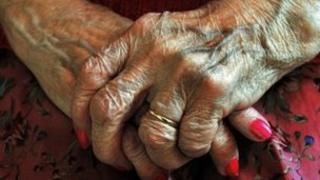 A singing group for people living with dementia has been launched by the Alzheimer's Society in Wrexham.
"Singing for the brain" attracted 20 people for its first session and will meet for a third time on Tuesday 25 June.
Organisers said people with Alzheimer's will often remember all the words to an old song, even if they could not hold a conversation.
They said singing was empowering and was helping people with the condition.
Dementia is the gradual loss of brain function leading to loss of memory and and inability for patients to understand what is happening around them. It affects 800,000 people in the UK.
Jacky Baldini, of the Alzheimer's Society in north Wales, who helped to set up the singing group in Wrexham, said: "It's an opportunity for people with dementia to come along and through using music in a therapeutic way participate in something which is really quite exciting.
"People who've had memory problems often recall things from the past and people who get involved in singing can often remember words to songs they sang many years ago.
"People who have had communication difficulties or who haven't perhaps spoken or can't remember words when they actually start to sing - it all comes flooding back to them.
"It's a very uplifting, inspiring activity and gives people an opportunity to meet other people, to get out and about because often people with dementia stop participating in things they use to do before and this is an opportunity for them to start doing it again."
A similar service to support people with Alzheimer's and their families was launched in the south Wales valleys in 2011.
Specialist dementia cafes funded by Rhondda Cynon Taf council were established across the county and hosted by the Alzheimer's Society.
They offered people with dementia, their families and carers the opportunity to meet in a friendly and relaxed environment where they can share experiences and provide support for each another.