Glan Clwyd hospital junior doctors shortage concern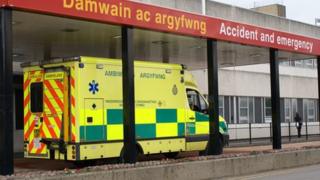 Doctors' leaders fear emergency surgery could be scrapped at Denbighshire's Ysbyty Glan Clwyd hospital due to a shortage of junior doctors.
They are concerned such a move would put other services in jeopardy at the hospital in Bodelwyddan.
But the health board which manages the hospital said no decision has been made on service changes.
Managers admit they are trying to recruit more doctors to ensure they can continue to "maintain safe services".
Betsi Cadwaladr University Health Board (BCUHB) says Wales Deanery, which provides junior doctors to Welsh NHS hospitals, plans reductions in the number of those being trained in some specialties across Wales along with changes to the number of sites on which they receive training.
Wales Deanery says it has been reducing the number of surgical teaching posts gradually at Glan Clwyd to give the health board time to make alternative arrangements.
But North Wales Local Medical Committee (LMC) which represents local GPs, is concerned Glan Clwyd will lose out to the region's other district general hospitals at Wrexham and Bangor.
Prestatyn GP Dr Eamonn Jessup, chair of North Wales LMC, said: "As we understand it, the difficulty has arisen because the deanery only wants to support training for junior doctors at two district general hospitals in north Wales, while the health board is committed to providing emergency surgery at three sites."
'Ghost town'
He said cutting the service at Glan Clwyd would be an "illogical move" as the hospital had an "incredibly" heavy workload and cutting emergency surgery would put other services in jeopardy.
He said the hospital treated a particularly high number of elderly patients, but it was being treated as the "forgotten ghost town of medicine".
Dr Jessup said he and his colleagues had raised the issue through the British Medical Association (BMA) with the local health board and the Welsh government.
His concerns have been echoed by Phillip Banfield, a consultant obsterician at Glan Clwyd and area chairman of the BMA.
"The BMA has raised concerns that the evidence presented has been biased in favour of the Wrexham and Bangor hospitals and no real attempt has been made to explore other models that would enable emergency surgery services to continue at all three sites," he said.
"The issue of trainees will not be resolved by the health board's proposals and north Wales will become even less attractive as a place to train, despite having excellent facilities and some great surgical teachers."
In a statement, the BCUHB said it is currently developing its strategy for "sustainable acute hospital services".
"This is in response to a number of challenges, including workforce pressures and changes to the way in doctors are trained.
"There are some planned reductions by the Wales Deanery in the number of junior doctors being trained in some specialties across Wales, including across north Wales, along with changes to the number of sites on which doctors receive training.
"We have been developing plans to recruit additional non-training junior doctors to ensure on-going safe service provision.
"These plans will also reflect how we will maintain safe services across north Wales if we don't recruit all of these additional doctors we would want."
Wales Deanary said it had started a programme to reconfigure and improve the quality of the training it provides to junior doctors.
A spokesperson said the number of surgical posts provided at Glan Clwyd will be reduced to five in 2013, down from 12 in 2011.
The deanery said it has been making changes in its operations to improve the ratio between junior and higher level surgical training posts to ensure Wales remains an attractive place to learn.
The spokesman explained that when there are fewer higher level posts for young doctors to progress into, then they tend to look to other regions.