Wrexham cats die after anti-freeze poisoning, say RSPCA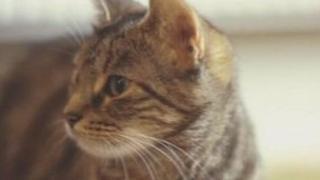 A spate of cat poisonings in the Wrexham area has led the RSPCA to appeal for information.
The animal charity said at least five cats have died of anti-freeze poisoning in recent months, and possibly more.
It said there may be an innocent explanation to the deaths but it was concerned someone was deliberately trying to harm cats and other animals.
RSPCA inspector Tim Jones said: "We are very concerned about these poisonings and we urgently need more information."
The alert began last month when an owner in Moorland Avenue reported that their cat had collapsed and was shaking.
A vet confirmed the cat had suffered anti-freeze poisoning and the animal was put to sleep.
Further inquiries found four other cats had died of anti-freeze poisoning in recent months. They include at least one of two cats which died with 24 hours of each other in Ruabon at the beginning of May.
A cat owner in Bangor-of-Dee reported that three of her pets had died of anti-freeze poisoning in the past 15 months.
The RSPCA said it had learned of several other cats in the area dying of the same cause in recent weeks.
Mr Jones said: "There may be an innocent explanation but we are concerned that someone is deliberately causing suffering to cats and other animals in the locality.
"We would also ask perpetrators to be aware that deliberate poisoning using anti-freeze could mean a £20,000 fine and/or six months in prison under the Animal Welfare Act.
Colourless and odourless
"Owners should be vigilant and contact a vet immediately if they suspect that their pet may have been in contact with the chemical or if they see any warning signs or symptoms. The sooner the animal is treated, the better their chances of surviving."
The RSPCA has asked anyone with information to contact the charity's cruelty and information line in confidence on 0300 1234999.
Anti-freeze (ethylene glycol) is usually colourless and odourless liquid with a sweet taste. By the time symptoms such as vomiting, lethargy and, in the latter stages, head shaking and coma occur it is often too late to treat.
Renal failure is frequently the cause of death, with damage to the kidneys, brain, liver and blood vessels.