Legal aid cuts: Mark Pierce's compensation fears for families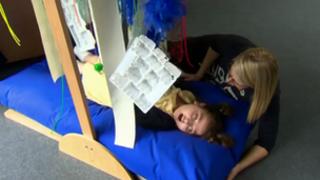 A father whose daughter was left brain damaged due to medical negligence says families in a similar situation would now struggle to claim compensation.
Kate Pierce, of Wrexham, was nine months old in 2006 when she developed pneumococcal meningitis, but was wrongly diagnosed.
Kate died last month, aged seven, while on a family holiday in Florida.
Mark Pierce said legal aid had helped the family win compensation but Kate would not have qualified today.
The UK government is reducing the near £2bn legal aid bill and some clinical negligence cases will no longer be eligible.
The Ministry of Justice says 90% of clinical negligence cases are heard without legal aid as they are suitable for "no win no fee" lawyers.
But Mr Pierce said his family could not have fought Kate's case without such aid and he is concerned for parents in a similar situation.
"The legal aid rules have changed. Because Kate was nine months old and because the injury didn't occur at birth or shortly afterwards, Kate would not be eligible to pursue a claim using legal aid," he said.
Kate had developed a life-threatening infection which was wrongly diagnosed as viral tonsillitis when she was taken to Wrexham Maelor Hospital.
A junior doctor said she was well enough to go home. Her parents asked for a second opinion but the junior doctor claimed he had sought the advice of a more senior doctor when he had not.
Kate went home but her condition deteriorated and she came back to hospital where she was correctly diagnosed with meningitis.
But she had suffered severe brain damage and was then in need of round-the-clock care.
Enormous sympathy
She was registered deaf and blind, had chronic lung disease and severe epilepsy, among other conditions.
Last year, her parents were successful in their case against Betsi Cadwaladr University Health Board, which has accepted 75% responsibility for the claim.
The Ministry of Justice said it had enormous sympathy for people involved in these types of cases, but the majority "do not need legal aid".
"Currently 90% of clinical negligence cases are heard without legal aid as they are suitable for a 'no win no fee' deal," said a spokesperson.
"We are, however, ensuring legal aid remains where negligent medical treatment during pregnancy or shortly after birth results in a baby being severely disabled and needing extra care for life."
Mr Pierce said he was unhappy with the justification for the changes, which came into effect on 1 April.
"Kate's legal fees are in the region of half a million pounds, and to get an expert lawyer with the necessary expertise and dedication to do that kind of investigation, you simply could not do that with a no win, no fee [lawyer]," he said.