FoI requests 'hamper' Prestatyn Town Council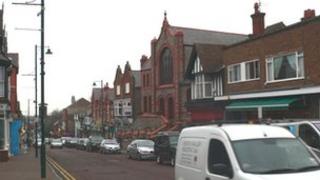 Calls have been made to change the Freedom of Information Act after a town council complained that the number of requests it receives hampers its work.
Prestatyn Town Council in Denbighshire has received nearly 600 questions and information requests in the past three years, mostly from one individual.
Its clerk said dealing with them last year took 30-40% of his time, which equates to about £17,500 in salary.
But the Information Commissioner's Office said the act was running well.
Freedom of Information (FoI) requests can be made to any publicly-funded body in the UK.
They are frequently used by journalists, businesses and politicians to obtain information which is not already publicly available, although any member of the public can make a request.
But Nigel Acott, the Prestatyn Town Council clerk and finance officer, said there was no mechanism in the current legislation that prevented people from submitting persistent inquiries or complaints.
"Last year we looked at my time sheets and calculated we were spending probably £17,500 on dealing with single inquiries," he said.
"This year the town council has put a budget aside of £6,000 for legal fees associated with this type of inquiry.
"It's hugely stifling - both in terms of finance and also in terms of human resources and the ability of the town council to carry on in assisting other groups in the town which is where we want to be."
Under the legislation, each request should not cost more than £600 for central government to answer and should be less than £450 for other public authorities.
Although the act says that public authorities do not have to comply with "vexatious" or "repeated" requests, it does not place a limit on the number of requests can be made by any one individual or organisation.
As well as dealing with FoI requests and other requests for information, Prestatyn Town Council has also been the subject of a large number of complaints dealt with by the public service ombudsman for Wales' office in recent years.
Dealing with these complaints has also taken up a large amount of time, according to Mr Acott.
'In 2012 I believe we had the highest number of complaints in Wales - which was 85 complaints - and 72 of these were generated by one person," he said.
"All those public service ombudsman complaints have resulted in no action or investigations discontinued due to lack of evidence.
"At the end of the day the way the legislation is written at this moment, we are duty bound to respond to every Freedom of Information inquiry or request - there's an obligation there to respond, no matter what the question is."
He is now calling for a "reasonableness" clause to be introduced to the act so that any request for information has to be reasonable and relevant to the workings of a council.
However, the Information Commissioner's Office - the independent authority set up to uphold information rights in the public interest - says that the act is working well in its current form.
Ann Jones, head of its Wales office, said there were some problem areas that would be tweaked in the future, but generally speaking it was delivering.
"People are asking for information and they are getting it," she said. "Thousands and thousands of requests are coming in to public authorities and they are being answered and they are going away happy but it's just those few areas that may need to have one or two tweaks."
'Frivolous requests'
Glyn Davies, Conservative MP for Montgomeryshire, said the Freedom of Information Act was here to stay, but he did have concerns about wasteful requests before the act came into force in 2000.
He said he had been worried "there would be frivolous requests that would cost a lot of money - there would be fishing expeditions from the media and I thought that was going to be a real issue".
One Voice Wales, the body which represents over 500 town and community councils in Wales, said that the burden of dealing with FOI requests and complaints is felt more acutely by smaller councils who have less resources and staff than the larger county councils.
Lyn Cadwallader, chief executive of One Voice Wales, said: "We know that 56% of councils in Wales have a clerk that works less than 10 hours a week, so naturally any information request that comes in will deter them from getting on with their day to day activities."
In October, the Welsh Local Government Association warned that Welsh local authorities were also struggling with the number of FoI requests which have more than doubled since 2005.