Glasdir estate: Ruthin flood victims 'live in fear'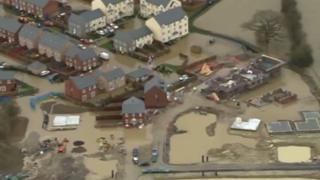 A resident on a Denbighshire estate where 122 homes were flooded claims people will live in fear without guarantees against further floods.
Katy Williams, 35, has returned to her home on the Glasdir estate, Ruthin, which was flooded in November.
She said about half of the affected families have now returned to their homes, but others are still having their properties repaired.
Denbighshire council says a report into the cause of the floods is due in May.
The Glasdir estate was flooded by the River Clwyd following days of heavy rain.
On the same day, hundreds of homes in nearby St Asaph were flooded when the River Elwy burst its banks.
Insurance costs
Mrs Williams says she, her husband Owain, and their 18-month-old twins Maisy and Morgan, "lived out of suitcases" with relatives and in rented accommodation for 11 weeks before returning home.
The flood water in their property reached the second stair, damaging everything in its path.
She said her insurers moved quickly and the repairs are now complete.
However, she is waiting to see what will happen to her insurance premiums, and knows of one resident who has since had a £5,000 flooding excess applied to their insurance policy.
She said there is a greater fear affecting the estate - that it could once again be devastated by floods.
"We're waiting for a report from Denbighshire council, which is due in May," she said.
"Hopefully the outcome of that will be that it was down to blocked culverts and the grills not being right, but if it's not and more steps need to be taken then we're just going to live in fear."
She added: "I think even if we were given assurances, it's not going to take the fear away.
"We've all got that image in our minds now of seeing the water coming into the estate like a tide, and that's not going to leave us the whole time we live here."
Mrs Williams had her home valued the day before the floods, with a view to selling it.
She said: "People say time moves on and people forget and I'm sure if it was down to blocked culverts - and the culverts were maintained - the trust will come back and people will buy down here again.
"It's a beautiful place to live, but we've had to to back off the idea, short-term, of moving."
Valuables rescued
Remembering the day her home was engulfed with water, Mrs Williams said the alarm was raised at about 07:00 GMT by postmen.
She said they came into her home "like a swarm of locusts" and moved valuables - including irreplaceable photo albums - out of reach of the floodwater.
"If it hadn't have been for those postmen, we'd have lost everything.
"There are some houses that the postmen didn't manage to get around to, and that's another question that remains unanswered for us - why weren't we warned?
"Okay, there was all the stuff going on in St Asaph, but this was a devastating event about to happen here as well, and there was just no warning at all."
Mrs Williams said she believes early-warning alarm systems were recently installed on the culverts.
She said her family coped with the aftermath of the floods by "going into auto-pilot", but admits: "I think we'd struggle to get through it again."
One positive has emerged from last November though.
"You used to go out to the car and you'd see people and might not even raise your hand to wave.
"Now everybody knows each other and stops for a chat.
"It has developed a real sense of community. And about a week after the floods, the residents association was formed."
Denbighshire council said it wanted to wait until the findings of the report were known in May before commenting.