Open verdict on Pauline Annette Edwards missing in 2010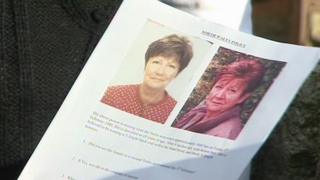 An inquest has recorded an open verdict on a woman whose body had not been found since she was reported missing on the north Wales coast three years ago.
Pauline Annette Edwards, 68, from Buckley, Flintshire, was on holiday in Trefor, Gwynedd, when she was last seen at 1600 GMT on Friday 5 February 2010.
Search involving villagers, lifeboats, coastguards, helicopters, police divers and rescue dogs were launched.
The inquest verdict was sanctioned by Home Secretary Theresa May.
The hearing at Llangefni, Anglesey, was told grandmother Mrs Edwards, a retired shop assistant, had arrived with her husband John at their second home at Trefor but, after saying she was going for a walk, she disappeared.
The inquest heard that a local man had seen a figure in the sea who he thought might have been in a dry suit or wearing a hood but did not believe he or she was in trouble.
The man was reassured when a surfer mentioned that it could have been someone acclimatising for a swim, the hearing was told.
The deputy coroner said it would never be known whether the person was Mrs Edwards.
A villager who had met her in the street had said Mrs Edwards was not upset and had greeted him warmly, and the coroner was satisfied that these were not the actions of someone setting out to harm herself.
North Wales deputy coroner Nicola Jones and Mr Edwards paid tribute to the more than 200 people who had taken part in the search for Mrs Edwards.