North-south Wales air route plan for Chester-Hawarden airport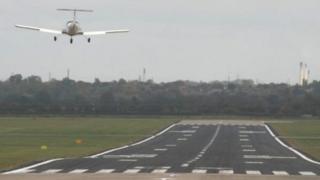 An airport in Flintshire is a step closer to setting up a north-south Welsh air route in its expansion plans.
The timetable has not yet been fixed but Chester Hawarden Airport has said their new terminal should be open by this summer.
Several airlines - including Citywing, which operates the only existing north-south air link - are believed to be in talks with the airport.
The present north-south route links Cardiff with Valley on Anglesey.
The service receives an annual subsidy of £800,000 from the Welsh government.
'Viable and sustainable'
Chester-Hawarden Airport's managing director, Caroline Craft, confirmed she would consider asking for a similar deal when asked by the BBC's Ar-lein Welsh-language news website.
North Wales Conservative AM Mark Isherwood has backed the idea.
He said: "I have previously called for Welsh government support for this, but was told that EU rules favoured Anglesey over Hawarden.
"We need a business plan to show that the plans are viable and sustainable, and for the Welsh government to re-visit requests for front-end support on this basis."
Plaid Cymru's north Wales AM, Llyr Huws-Gruffydd said: "We foresee that Hawarden could offer a range of regular services using planes of up to 50 seats.
"If it's possible to offer regular services to Scotland, Ireland, the Isle of Man and Cardiff, and then on to western Europe whilst creating jobs and investment in the north, then it would be fair to expect the local council to offer reasonable financial support.
"But Plaid Cymru do not necessarily see the need for a public subsidy for flying between Hawarden and Cardiff.
"We would be in favour of running the service from Holyhead (Valley) to Cardiff as a strategic link, and then investing any money left over in improving the north-south rail link."
He said the current train service from the north-east to Cardiff takes a little over two hours to reach central Cardiff so any time saving by flying would be "minimal".
"We want to see the direct train service improved. We should invest in line with the National Traffic Plan, and Hawarden isn't part of that."
The Lib Dem AM Aled Roberts said he was against giving Citywing further subsidy to run a service between Hawarden and Cardiff.
"My personal opinion is that any public money should be spent on improving rail links between the north and Cardiff," he said.
A spokesman for the Welsh government said it was currently undergoing due diligence work for the proposed purchase of Cardiff Airport.
"It would be inappropriate to comment on any speculative future route from the airport at this time.
"However we are supportive of further moves to develop Hawarden airport."