Airbus wing ship safely back in Mostyn Port after refloating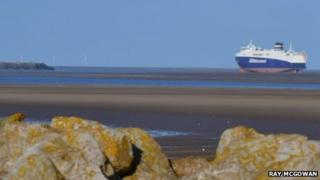 A fresh bid to refloat a ship carrying Airbus aircraft wings from a sandbank on the Dee estuary has been successful.
The Ciudad de Cadiz, which transports Airbus wings from Flintshire to France, had been grounded outside Mostyn Docks for a week-and-a-half.
The 125m vessel slipped its moorings in high winds on 30 January.
Ship salvage experts had been forced to wait until Saturday morning for a high enough spring tide to refloat the vessel, after earlier attempts failed.
The tide at 10:00 GMT was sufficient to lift the ship from the sandbank, and it made its way safely to Mostyn Port.
"It is now undergoing a survey, and if all is well, it will travel to Holyhead for a full dive survey," said a spokesperson for the Coastguard in Liverpool.
The ship became stuck as it was waiting to go into port to pick up wings made at the Airbus plant at Broughton for delivery to the company's assembly factory at Toulouse in southern France.
But high winds, and then lower than expected tides meant attempts to move the ship had to be abandoned until this weekend.