Paul Savage Mold murder can be solved says ex-detective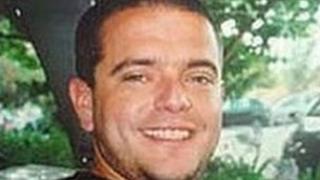 A former senior police officer who helped investigate the murder of a postman in Flintshire still believes the 10-year-old case can be solved.
Retired detective chief superintendent Chris Corcoran believes some people in Mold know who killed Paul Savage.
Father-of-one Mr Savage, 30, was beaten with a wooden baton while on his delivery round in Clayton Road on 4 February, 2003, and died in hospital.
North Wales Police said the case remains open.
Despite a £100,000 reward, the killer, or killers, have never been caught.
In 2005, North Wales Police detectives said they knew what the motive was, but were not prepared to release the details.
And in 2010, officers re-visited the investigation and the inquiry led to a fresh search of fields near the murder scene and new items undergoing forensic tests.
Now on the 10th anniversary of the murder, Mr Corcoran said the case "must be solved" for the sake of Mr Savage's family.
"I still believe that the answer to solving the murder lies in Mold with the local community," he said.
"Ten years on, I think some of the younger witnesses will have matured into adults now and can make their own decisions on whether to come forward or not."
He added: "For the sake of the local community in Mold, this needs to be solved.
"It needs to be something in the past, not something that keeps recurring every year."
Asked if he thought solving the murder remained a realistic prospect a decade later, he said: "I think it is.
"Some people in the community have the answer. They know exactly what's gone on. They know the people involved."
He called on anyone with information "to be strong enough" to come forward.
Mr Savage's mother, June White, told the Daily Post newspaper how she wants to "have my day in court".
She said: "I'll live for this conviction. I hope to see it.
"I think of the Stephen Lawrence case - 20 years his mother waited. I want to have my day in court. It would be everything that I have lived for the past 10 years."
She said she was "still hopeful someone will come forward".
Mr Savage left a wife, Charlotte and daughter Reagan, who was four when he died.
Ms White said her granddaughter is now nearly 15, adding: "She's been brilliant. I don't bring things up. She doesn't remember and I don't remind her.
"She was only four-and-a-half coming up to five then. She hasn't got any recollection. She's very tall like he was, she's got his humour and a lot of his habits."