Free shop could boost Wrexham's economy Dr Gareth Harvey claims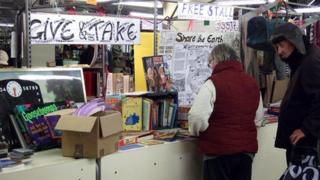 A "free shop" which gives goods away for nothing could potentially help boost the local economy, a psychologist has claimed.
The Give and Take stall in Wrexham's People's Market is run by volunteer group Free Economy Wrexham.
Customers are invited to take whatever they want from a selection of second hand goods donated by supporters.
Psychologist Dr Gareth Harvey said free goods could make customers happy and make them want to spend more elsewhere.
The initiative has been running at the market since November and organisers say it has become so successful they hope to expand to a second stall.
All goods - donated by people throughout the local community - are free to shoppers, who are invited to make a voluntary donation, and any money made goes back into community projects.
The store accepts anything in working order, except sharp objects.
Volunteer Gay Jacobsen said: "A lot of people say, 'how much is it?'
"We say 'it's free' and they say 'what do you mean it's free?' They think there must be a catch - they really can't get their heads around it.
"After that they smile, and often ask if we want a donation. I always say, 'it's up to you'. It makes them want to put donations in.
"You watch people come in for a few weeks with trolleys, filling them. Then it just starts coming back the other way. It's interesting to watch.
"We get stuff every day. I can't get in the door some days.
"It's unbelievable. I put out 25 bags of stuff today. You couldn't move for people earlier."
Stock is replenished daily, and ranges from second hand clothes to music and video cassettes, collectable plates and furniture.
From beach balls to Glenn Miller LPs and a Dr Who face mask, nothing is off limits.
Volunteers have enlisted the help of an electrician to safety-test all electrical goods.
The project is designed to reduce the amount of rubbish going to landfill.
Ms Jacobsen said it started when Free Economy Wrexham and a group of volunteers called the Yum Yum Project negotiated with Wrexham council to take over a vacant stall.
Despite the obvious potential threat to other market traders selling goods, the project appears to have the backing of other stalls.
Dr Gareth Harvey, lecturer in consumer psychology at Wrexham's Glyndwr University, said giving customers something for nothing could have a positive knock-on effect for the local economy.
"If you receive something that's unexpected you receive a positive boost to your self esteem," he said.
"It's a mood effect, a positive effect.
"Happy people have a tendency to buy more, so there's a potentially good effect on the neighbouring shops."
With the first "purchase" being free, Dr Harvey said the process could kick-start the "shopping momentum effect," whereby the "second and third purchase becomes far easier".
He said he was not surprised the stock was constantly being replenished, because "when you are given something you are far more likely to give something in return".
Karen Barker, who runs a neighbouring jewellery store, said: "It's great, it's bringing people in.
"I've found now I'm emptying my house to bring stuff in.
"They're very good, they don't put stuff out that we sell. They take into consideration everybody else as well."
Customer Ann Baker said: "I think it's an excellent idea if it's not abused.
"As long as people don't take good stuff to sell it on and make a profit out of it. That would be totally wrong.
"There's a lot of people in Wrexham who would welcome something like this, who are finding it hard to manage.
"I've had books from here. I give a donation every time. They told me I didn't have to, but I say if you can afford to, put your money in the box."
Husband Lloyd Baker: "I think it's a brilliant idea.
"I think we should be doing more of it. My conscience wouldn't let me take something and not pay for it, so I always make a donation."