Penlington-Pennington Denbighshire vote mix-up reversed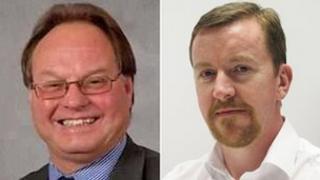 A council election result has been reversed to favour a Labour candidate whose votes were wrongly given to a Conservative with a similar name.
Tory Allan Pennington polled 580 votes to win a Prestatyn North seat in Denbighshire last year, while Labour's Paul Penlington secured 366.
The Labour hopeful petitioned the High Court to have the result overturned.
It ordered a recount which gave Mr Penlington 606 votes to Tory rival's 341.
The recount took place in secrecy in front of a court official, and the result was formally announced on Wednesday.
Mr Penlington said: "I'm really pleased that after 10 months of waiting, I can finally take up my seat on Denbighshire council."
The college lecturer added that he found it "very frustrating" at not being able to serve his constituents as a county councillor.
"There are quite a few major issues that I want to get my teeth into," he said.
Human error was blamed for the mix-up during the council elections in May 2012.
Denbighshire council admitted at the time that the result would have been reversed if the votes had been correctly allocated.
Speaking after the court ruling, Mohammed Mehmet, Denbighshire's chief executive, said: "Once this mistake came to our attention, we acted immediately. We have tightened our procedures further to make sure this kind of mistake is avoided in future".
A special two-judge election court officially accepted the result which will take formal effect in seven days.
Mr Justice Collins, sitting in London with Mrs Justice Slade, said: "I am sorry it has taken so long; it's been eight months or so but that can't be helped."
The legal costs of the case are likely to exceed £20,000.
Labour became the biggest party in Denbighshire in the May 2012 election, although the county is controlled by an independent-led coalition.