Mainetti UK ordered to pay £81,600 over conveyor worker's injuries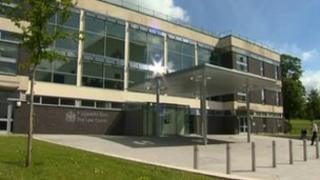 A firm has been ordered to pay £81,600 after a worker was injured when her hair and scarf became tangled in machinery.
Kelly Nield, 24, from Ellesmere Port, could have been killed in the "horrific accident", Mold Crown Court was told.
She suffered neck and throat injuries, hair loss and a fractured finger, and still has disabling injuries.
Coat hanger maker Mainetti UK admitted four health and safety charges at its plant on Deeside, Flintshire.
The court heard the accident happened on agency worker Miss Nield's first day of working on a conveyor belt sorting hangers in April 2009.
Prosecutor Simon Parrington said as she lent forward to rectify a blockage on the line, her scarf became entangled in an inadequately guarded cog mechanism.
The worker's hair then followed and as she tried to free herself, her left hand also got caught up. She suffered serious injuries to neck, throat and hair.
Mr Parrington described how Miss Nield, first tried to free herself and then shouted for help. Eventually, another worker ran and pushed the main "off" button some distance away.
Miss Nield was in hospital for three months and had a number of operations and is still left with disabilities, the court was told.
Mr Parrington said there was no emergency stop button on the line, Miss Nield was unable to save herself, and it could easily have been a fatality.
Defending barrister Simon Antrobus said Mainetti's managing director and senior officials wished to publicly apologise to Miss Neild for her injuries.
He said the company, which has a base in Scotland and was established 38 years ago, had immediately accepted full responsibility and did not seek to "pass the buck".
'Accident waiting to happen'
It had safety procedures in place, assumed they were being followed on the factory floor and should have discovered that they were not.
The barrister said the firm had now moved to a new factory at Greenfield from its Deeside plant, and has carried out a "root and branch" safety review.
Judge Niclas Parry called it "an accident waiting to happen".
It was "a horrendous accident", he said. "The worker had suffered dreadful injuries, and it was clear that no guidance or instruction had been provided to her."
The company was fined £60,000 with £21,600 costs.
After the hearing, HSE Inspector David Wynne said: "These horrific, life-changing injuries sustained by Ms Nield could easily have been avoided if the right safeguarding measures had been taken by Mainetti (UK) Ltd.
"There are well-known risks associated with working with conveyor belts.
"It is vital, therefore, that the risks are fully assessed and guarding provided to prevent access to moving parts. Where appropriate, emergency stop controls should be installed in readily accessible places."