Digital TV: Viewers 'cannot receive' Wales-based channels, says MP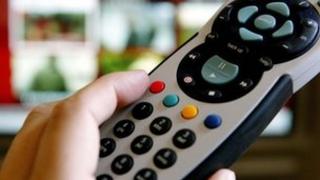 An MP has urged the UK government to investigate why some digital TV viewers in north east Wales cannot receive Wales-based channels.
Susan Elan Jones said it was "totally shambolic" that people could not access BBC1 Wales, S4C or ITV Wales.
She said many viewers in her Clwyd South constituency could only receive the channels if they bought Sky boxes.
Ofcom said there was a small number of locations where viewers may not be able to receive their national programming.
Speaking during Welsh questions in the House of Commons on Wednesday, Ms Elan Jones asked the UK government to intervene.
"Digital UK is, of course, funded by the TV licence but the level of service it's been offering to many of my constituents and other people in north east Wales has been totally shambolic in terms of the lack of provision for English or Welsh language Welsh television services," she said.
"In some cases they've even told people to go and buy (Sky) freesat boxes. That is pathetic.
"If Digital UK carry on being this pathetic that they are required to fund the freesat boxes because this is an unsustainable situation in north east Wales."
In response, Wales Office minister Stephen Crabb said he was aware that certain parts of Wales had digital television reception problems.
"Most of these problems, I understand, are relatively straightforward to sort out but where there are persistent problems I'm more than happy to meet with the honourable lady and with Digital UK, and possibly with Ofcom, who may be more appropriate in this respect," he said.
Elwyn Dodd from Johnstown, near Wrexham, was faced with the loss of Welsh TV stations when digital switchover happened.
He paid for a satellite receiver to overcome the problem but said not everyone had the luxury of opting out of English regional channels.
"In principle, when switchover happened in September 2011 the variety of channels provided by Freeview meant we received a better service, but we couldn't receive Wales-based stations," said Mr Dodd, 78.
'I'm Welsh'
"I spoke to Digital UK and they eventually wrote back saying the signal on the English side of the border had been boosted and that was probably why I couldn't receive Welsh programmes.
"I can receive BBC and ITV channels based in the north west of England and the Midlands, but I'm Welsh and I want Welsh channels."
Joe Smithies of Ofcom said digital switchover had seen Freeview coverage boosted from less than two-thirds to more than 98% of homes in Wales, and the vast majority of viewers could watch Welsh programming via their aerial.
"However, as in other parts of the UK, there are a small number of locations where viewers may not be able to receive their preferred national or regional programming due to long-standing technical constraints," he added.
"These viewers may need to consider alternative reception options, such as free-to-view satellite, which does not require a subscription and is almost universally available."