Young police: North Wales commissioner's recruitment hope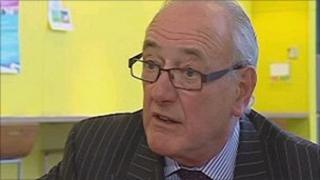 The North Wales Police and Crime Commissioner says he hopes to reverse a dramatic fall in the number of young officers in the force.
Figures show a drop in officers aged under 26 across Wales and England.
Winston Roddick says the economic downturn has hit recruitment, but he hopes budget talks lead to a "substantial" rise in young officers.
In Wales and England there were 9,088 officers aged under 26 in 2009-10, but that declined to 4,758 in 2011-12.
Economic downturn
Overall police numbers hit a nine-year low in 2012, due to tighter budget constraints slowing recruitment.
Data on the number of police officers was obtained in a Freedom of Information request by BBC Radio 4's The World This Weekend, and showed how much of that fall has been among younger officers.
Across England and Wales the number of young police officers had fallen by nearly 50% in two years.
But in North Wales Police, and forces in Cleveland and Staffordshire, the fall in the number of officers under 26 was more than 70% over the period.
"The current economic downturn has undoubtedly affected the recruitment of new police officers," said Mr Roddick.
First budget
"However, during my campaign to be elected commissioner, I identified increasing the number of officers on the streets as one of my five priorities.
"I believe this will reduce crime and allay public concern for safety on the streets."
Mr Roddick said he would will be discussing with the chief constable, Mark Polin, "ways and means of achieving this".
He will also be discussing the draft of his first budget with the police and crime panel this week, he added.
"If the budget is confirmed then we shall see an increase in the recruiting of young officers and the figures will rise substantially."