Deeside truck stop opens with 24/7 facilities for 50 HGVs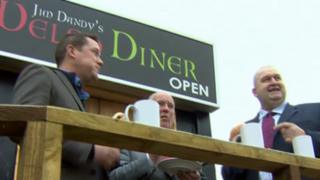 A truck stop has been opened on Deeside following years of campaigning for better facilities for lorry-drivers travelling on the north Wales coast.
Dandy's North Wales Truck Stop has room for 50 trucks and will open be open 24 hours a day.
Welsh Transport Minister Carl Sargeant said it would encourage HGV drivers to use the park rather than limited lay-bys along the A55.
In the past a number of truck-stop plans along the A55 have been refused.
The new facilities include a diner, lounge area and free WiFi access.
In the future there are plans to expand to provide space for up to 70 lorries and 250 caravans.
'Safer driving'
"Parking facilities along the A55/A494 corridor are limited and therefore this new truck stop is something I very much welcome.
"These facilities provide an excellent rest area for HGV drivers and I encourage them to park up here rather than the current practice of parking on existing lay-bys along the A55."
Mr Sargeant said the Welsh government is committed to improving the safety of all road users and the facility is another measure towards achieving this objective.
Late last year plans for a truck stop for lorries using Holyhead on Anglesey were put forward by Conygar Investment Company PLC.
It says the truck stop will ease overnight parking problems and congestion.
In March last year plans for a truck stop near the A55 in Flintshire, deferred from 2011, were refused by planners.
A report said the proposed site was on undeveloped agricultural land and "would be visually detrimental to the area and result in an unacceptable form of development into open countryside".
Two applications for truck stops were also refused in 2009.