Wrexham cinema's hunt for Russell Crowe's local family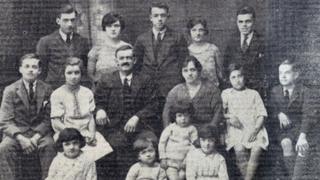 A Wrexham cinema wants to trace Welsh relatives of Hollywood star Russell Crowe, to mark his new film's release.
Les Miserables star Crowe can trace his roots to Wrexham, where his great-grandfather ran a fruit and veg wholesalers in the early 20th Century.
Some descendants who can prove a connection to Crowe are being offered the chance of tickets to see the new film at the town's Odeon Cinema.
Crowe's grandfather later emigrated to New Zealand, where he married.
The family can be traced back to a well-known businessman, William Frederick Crowe, who was a respected member of the church, and became a deacon of Chester Street Baptist Church in Wrexham.
When Mr Crowe and his wife, Kezia, decided to emigrate to Canada in 1925 with 12 of their 13 children, their departure was big news in the local paper, the Evening Leader.
It reported: "Mr F. W. Crowe, a very well known Wrexhamite, leaves today (Friday) for Calgary, Canada. He will be accompanied by his wife and 12 children."
While most of the family left Wrexham, one of their children, John - Russell Crowe's grandfather - stayed behind to run the family business.
However, the business suffered, and within a few years Frank Crowe - John's older brother - returned to Wrexham to take over, and it later became a successful enterprise called Crofruit.
John Crowe later emigrated to New Zealand where he married and had children, including Alex, Russell's father. It is thought the family later moved to Australia.
'Cup of tea'
Some relatives remain in the Wrexham area, however.
In 2009, Crowe's second cousin, Hilary Betts, said she wanted to meet the actor.
Ms Betts, of Oswestry, Shropshire, told BBC Wales: "We share the same great-grandfather.
"My dad and his dad would be cousins, and that would make us second cousins, or something like that - quite close enough for him to come round for a cup of tea."
She added: "There's a lot of the family who would like to meet him, but as family, not as a celebrity."
Now, to mark the opening of Les Miserables - which also stars Hugh Jackman and Anne Hathaway - the Odeon cinema at Eagles Meadow is offering pairs of tickets to the first five descendants to prove a link to Crowe.
Ceidiog Hughes, who is involved in the search for relatives, said: "Frank [Crowe] stayed put in Wrexham and had a family of his own, and it seems that many of his descendants still live in the Wrexham area today."
Relatives can call Mr Hughes on 07958 497592.