Euticals, Sandycroft: Explosive chemicals to be removed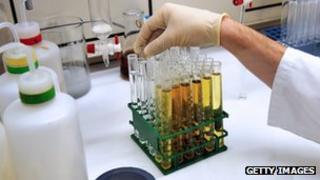 A large quantity of potentially explosive chemicals which was found at a Flintshire pharmaceuticals factory is to be removed.
A team of experts will dispose of isosorbide dinitrate, known as ISDN, from the Euticals plant in Sandycroft, which has been shut down for more than a month.
ISDN is used to make angina medication.
It was discovered during an inspection after three workers were hospitalised following a chemical spill.
As a result, 3,000 letters and leaflets informing people about the potential hazard from the chemical were delivered to homes and businesses in November.
Flintshire council and the Health and Safety Executive (HSE) said in a joint statement that Euticals was "working co-operatively" with agencies to finalise its plan to safely treat and remove the ISDN.
Euticals director Tim Dowd hoped the disposal operation would start within the next two weeks.
He said the plan involved neutralising the chemicals within the factory before removing them from the site.
"The site is still locked down," he said.
"We are co-operating fully with the Health and Safety Executive, the Environment Agency and other agencies."
Earlier this year, Euticals was fined £100,000 at Mold Crown Court for failing to comply with three safety improvement notices demanded by the HSE.
Judge Phillip Hughes criticised the factory's previous owners, Archima Limited, for "abysmal management and incompetent" handling of safety procedures and said the company had shown "reckless disregard for adhering to the law".
The case was brought after an incident in November last year which resulted in a release of toxic gas from the factory.
The judge was told that nearly £1m would be spent over two years on safety improvements at the plant.