Flintshire faith schools face free bus cuts to save £100,000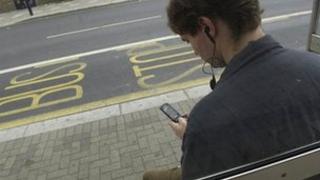 A council is to consult on plans to axe free bus travel for children attending faith schools, unless they can prove their beliefs with such evidence as a baptism certificate.
The Church in Wales says a change of policy in Flintshire will disadvantage some families.
But the council says withdrawing the discretionary funding could save up to £100,000 a year.
The authority is looking at other ways to cut its £6m school transport bill.
It says it will continue to honour minimum statutory requirements, but now it is reviewing some of the additional discretionary assistance it provides.
This includes changing its policy on providing free transport to denominational schools, which had been granted irrespective of whether they could provide evidence of their faith.
The other plan is to stop paying to transport all post-16 students to the nearest establishment - over three miles - offering the courses they wish to study "irrespective of how far" they wish to travel.
The council says an increasing number of students are travelling to Cheshire and Lancashire to study so it is considering providing free transport to specified local places only in a move expected to save about £51,000 a year.
Detailed analysis
But, it added, detailed analysis of the implications was still required.
As part of that it plans to hold a consultation with parents, schools and other interested parties in January.
Affected schools have been asked to comment, including St Richard Gwyn in Flint, as well as the Catholic diocese of Wrexham.
The Church in Wales said it was planning to take part in the consultation although it was not such an issue for its primary schools in Flintshire.
"We are aware of Flintshire council's proposals and will be submitting a response in due course as we feel it will disadvantage some families," said a spokesperson.
"However, free transport is not an issue for most of our schools in Flintshire as they are all local primary schools."
A council cabinet committee report in November proposed any changes be phased in as new pupils enrol at a school or college from the start of the next academic year later in 2013.
However, councillors are not expected to have a final vote on the issue before April after the consultation closes and people's views are considered.