Ruthin: Several factors behind Glasdir floods - Environment Agency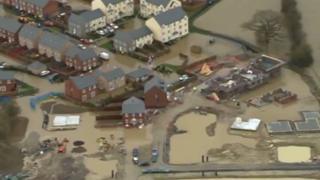 Devastating floods on a housing estate in Ruthin, Denbighshire, last month were caused by a combination of factors, a report has found.
Environment Agency Wales says blocked culverts stopped water from draining from Glasdir to the floodplain.
Heavily saturated ground and the length of time the River Clwyd was in flood also contributed.
Denbighshire council said an independent expert would lead its investigation into the flooding.
More than 100 homes on the Glasdir estate were hit by last month's deluge.
The Environment Agency said gradients on the opposite side of the culverts meant flood water could not drain to a wider floodplain.
Glasdir residents were alerted by a postman who had spotted that the river levels were dangerously high.
People living on the estate said they had been told that flood defences meant there was only a one-in-1,000-year chance of their homes being flooded.
Reacting to the report, Lisa Owen, whose home was flooded in Ruthin, said: "It really confirms what we really suspected that these culverts had not been properly looked after.
"My family are now in temporary accommodation and so are lots of others because of what happened."
Ms Owen said she wanted assurances the problem would be fixed and would not happen again.
Environment Agency Wales report for the Welsh government said culverts around the estate would need to have been 85% blocked in order to cause the flooding.
The report said as the water could not spread out across flood plains it went into the estate instead.
Residents returning to their homes on the estate last month asked questions about the flood defences.
Denbighshire council said it had co-operated with the Environment Agency over the report, adding that it was conducting its own investigation.
Council leader Hugh Evans said: "We are conscious that the residents of Glasdir want answers and soon.
Independent expert
"This report does go some way to identifying possible contributing factors, but we will have to wait for the full report to be completed before we are clear on that issue.
"In the meantime, the council, working with the Environment Agency, will be looking at what measures can be put in place as soon as possible to alleviate the risk of this kind of flooding at Glasdir and to provide some confidence and reassurance to residents."
The authority's chief executive Mohammed Mehmet said key questions of why the floods happened and how the "risk management agencies" responded would be led by an independent expert and their report would be published.
About 400 homes were inundated when the River Elwy burst its banks at St Asaph over the same period.