Wales floods: St Asaph and Ruthin CCTV for empty homes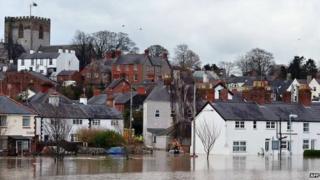 Security cameras have been installed at two flood-hit communities in Denbighshire where many homes remain empty after residents were evacuated.
Four cameras are monitoring streets in St Asaph and Ruthin where people were evacuated when flood waters hit last month.
Denbighshire council said the cameras are being monitored around the clock.
North Wales Police said it had also increased patrols in the affected areas.
Ch Insp Jo Williams said it was important for the community to know that agencies involved will do everything to "prevent the opportunity for crime occurring" at unoccupied properties.
'Would-be criminals'
About 400 homes were inundated when the River Elwy burst its banks at Asaph.
Lots of families were also affected on the new-build Glasdir estate in Ruthin where one CCTV camera is also being installed.
"The cameras will help provide reassurance to owners of empty properties and act as an additional deterrent to would-be criminals," said Councillor David Smith, Denbighshire's cabinet lead member for environment.
He added that work was continuing right through the Christmas period to support residents displaced by the floods, and that 100 tonnes of damaged goods had been collected by refuse workers.
The special advice centres in St Asaph and Ruthin have now been closed down but Mr Smith said people could get advice, information and help through the council's usual customer service points.
A dedicated web page with all the relevant information can be found at denbighshire.gov.uk/floodadvice