Royd Tolkien: Hobbit creator's great-grandson proud of film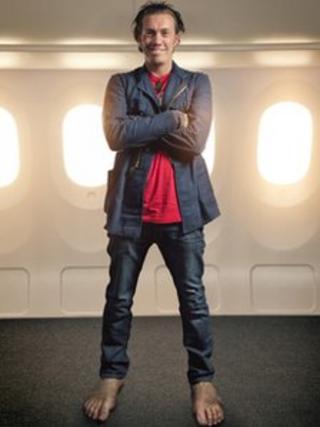 The Flintshire-based great-grandson of The Hobbit creator JRR Tolkien has spoken of his pride at seeing the story on the big screen.
Royd Tolkien attended the world premiere of The Hobbit: An Unexpected Journey in New Zealand as well as Wednesday's London premiere.
He said it was "nice to dip into" the showbiz world, with Prince William and Hollywood stars among the audience.
However, he admitted: "It's going to be good to get back to Wales."
Describing how his family came to Wales, he said: "I was born in Kent and moved up to Wales when I was three, and have lived there ever since.
His parents moved, he said, because "it was somewhere they liked," and "there was some sort of connection".
Mr Tolkien's son Story and brother Mike live nearby in Flintshire.
On his famous great-grandfather, he said: "I was four when he died. I have no memory really.
"At the time he was in Oxford. We had lots of family holidays down there.
"I have been asked whether I ever met him. I honestly don't know.
"We knew my sister met him because there's a picture."
Wednesday night's UK premiere at Leicester Square was attended by the Duke of Cambridge, the film's director Peter Jackson, actors Martin Freeman, Cate Blanchett and Sir Ian McKellan, and others.
It was the first film in a planned trilogy based on The Hobbit book.
Mr Tolkien, who works for a film production company, said: "It was a great night, but very cold.
"Leicester Square was rammed with people, and there was a green carpet, not a red carpet, which was quite apt for The Hobbit.
"The after-party was quite low key, but it was a great chance to catch up with the cast.
"I got to sleep about 5am."
Mr Tolkien met director Peter Jackson in the early 2000s during filming of The Lord of the Rings trilogy, and ended up with a small role in Return of the King.
More recently, he was invited by Air New Zealand - which dubs itself the airline of Middle Earth - to play a cameo role in a Hobbit-themed in-flight safety video.
He also flew to New Zealand, where the movie was filmed, to attend the world premiere.
Describing the London event, Mr Tolkien said: "There was everyone around me and all the family - Martin Freeman, Peter Jackson, Prince William, Stephen Fry - tons of people, some I can't even remember.
"I enjoyed the film even more second time around.
"The first time there was the excitement of watching it in New Zealand.
"This time it was great to be able to enjoy it for what it is and relax a bit more."
However, he admits: "It's a completely different world. It's nice to dip into this and have good fun, but I would go back to Wales tomorrow."
Seeing the success of the Hobbit films is "quite a humble feeling," he said, adding: "The source material being Tolkien, it's a great feeling - very proud."
Despite no memory of meeting his great-grandfather, Mr Tolkien remembers the influence his famous books had on family life in Wales.
"When we were young, growing up on the little small-holding we had, members of the Tolkien Society would come and camp in the fields on occasional summers, and sit around chatting away in groups."