Ysbyty Glan Clwyd A&E ambulance queue criticised by HIW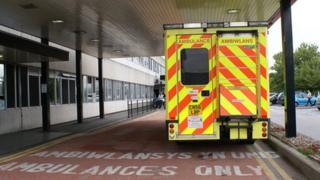 Up to five ambulances regularly have to queue outside A&E at a north Wales hospital due to a shortage of staff and beds, a critical report has found.
Glan Clwyd Hospital in Denbighshire was also "very poor" at responding to patient complaints, inspectors discovered.
Health Inspectorate Wales (HIW) made 20 recommendations for improvements.
Betsi Cadwaladr University Health Board said it accepted the report's findings and was working to resolve issues.
HIW said it was a "regular occurrence" for as many as five ambulances to be lined up at A&E.
In the report, inspectors said: "We were told by many patients of long waits both within the departments and on ambulances queuing outside the door.
"Patients queuing up on ambulances for significant periods of time before even receiving an assessment at the A&E department is unacceptable."
Once patients were seen, there was often a "bottleneck" in the task of finding an available ward bed for them, inspectors said, and once they were admitted many patients were moved around the hospital too often.
HIW examined seven of the hospital's 25 wards, as well as the A&E department and the acute assessment unit.
Inspectors were asked to look at how the hospital operates after Wales' public services ombudsman cited four cases in which failings in care were identified.
Among other concerns expressed and problems found were:
A regular shortage of trained staff on some wards
A shortage of consultants on A&E, a lack of ward beds leading to bottlenecks for people admitted through A&E and the Acute Medical Unit
Failings in how complaints are dealt with
The care provided by staff was generally good, the report found, but morale "was not great in some areas" and some nursing teams had high (6.75%) levels of staff illness.
The report said: "It was clear to us from observations and discussions that staff were feeling under pressure and working at a perceived 100% bed capacity."
The use of mixed sex beds in the acute medical unit was a particular concern for the inspectors, with them saying it was not appropriate for use by longer-staying patients.
After discussions with the health board, the HIW inspectors found only 28% of patients' concerns met the 30-day deadline for response.
An example of the badly-handled complaints included one by a person whose grievance about the poor standard of care of their father, who subsequently died, was upheld by the public services ombudsman, Peter Tyndall.
A cheque was sent to the complainant as a result.
"However this cheque was not accompanied by a letter or an apology and worse still was merely in the form of a remittance advice note that could not be used by the complainant," the report said.
"This naturally greatly upset the complainant. In another example a complainant whose father had died received, after a significant delay, a substantive response in which the deceased's name was incorrectly spelt."
The HIW inspectors said they were impressed by the health board's response following Mr Tyndall's report but there was "still more work to be done to ensure that the highest standards of patient care are reached at Glan Clwyd Hospital".
They also found what they described as "tension" between the hospital and the health board that "needs to be recognised".
In its statement for the report, Betsi Cadwaladr said: "The health board accepts the recommendations of the review and will continue to work to address the issues raised."
It added that a report on progress would be published within six months.