Twitter ban: Wrexham councillor Arfon Jones urges rule change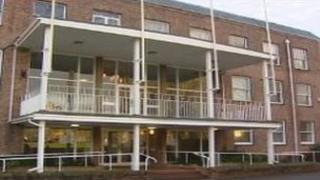 A councillor who says he was told not to use Twitter from a meeting is calling for a change in "absurd" rules on social media.
Arfon Jones was watching a Wrexham council executive board meeting which was discussing school bus fares when he sent Twitter messages from his phone.
He says he was called outside by the chief executive and told not to tweet.
The council, which has been asked to comment, is understood to have rules banning "transmissions" from meetings.
The Plaid Cymru councillor, who denies newspaper reports that he was ejected from the meeting, said: "I was tweeting during a council discussion on putting up school bus fares, which is a matter of concern to a lot of parents.
"When the matter was reported to the council's chief executive, she called me outside and told me not to tweet because it's against the council's standing orders.
"I can't understand why. This is the 21st Century, but in the council's constitution there's no recognition of social media."
He said the council's rules did not allow proceedings to be "transmitted," which he understood to mean TV or radio broadcasts.
The Wrexham Leader quoted standing order 45 of the council's constitution, "Photograph and recording at meetings", which says: "Proceedings at meetings may not be photographed, videoed, sound recorded or transmitted in any way outside the meeting without prior permission of the chair.
He added: "These days you can tweet from Parliament, you can tweet from the Senedd, you can also tweet from the courts.
"So why shouldn't you be able to tweet from a meeting of Wrexham council? It's time the rules were changed."
Following the meeting, Mr Jones, who represents Gwersyllt West, wrote on Twitter: "Imagine you are an elected member in a public meeting and you want to tell people quite legitimately what is going on... but you are banned from doing so and if you do you breach the code of conduct for using electronic means (Twitter). Absurd."
Some other councils, including Conwy, allow tweets from meetings.