St Cybi Church 'pirate' tower wins Lotto repairs cash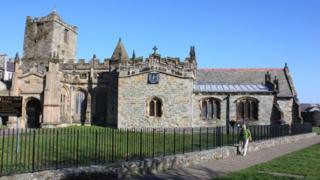 A church tower whose height was raised by Cromwell's troops so they could keep a look out for pirates has won heritage lottery backing for repairs.
St Cybi's Church, Holyhead, Anglesey, a Grade I listed building on the Wales Coastal Path, has landed £4,800 from the Heritage Lottery Fund.
Wales heritage body Cadw has said it may give a grant of £21,000 to work at the 13th Century church.
A further 17ft (5.2m) was added to the tower as a lookout over the coast.
The church, a major landmark and visitor attraction in Holyhead, was established within a Roman fort late in the Third Century AD.
The tower of the church was built in 1625.
'Future generations'
In the 1650s, Cromwell's troops occupied the site and added a further 17ft (5.2m) to the tower to create a better look-out for them against pirates.
The vicar, Rev Jane Bailey, said £111,000 is needed to complete the repairs.
Rev Bailey said the renovation work would include removing vegetation growing on the tower and re-pointing the stonework.
She added: "It is estimated approximately 10,000 visitors a year come to see the church, making it a key part of the community for businesses as well as residents.
"This work will help preserve the building for future generations of both worshippers and visitors and will greatly improve the visual appearance of Holyhead's most important building."