Mephedrone 'can kill' warns Judge Niclas Parry sentencing Scott Stewart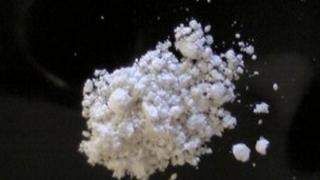 A judge has criticised the increasing use of the illegal drug mephedrone amongst the young, warning that it is dangerous and can kill.
Judge Niclas Parry was sentencing a 19-year-old chef at Mold Crown Court who admitted supplying and possessing MCAT, another name for the Class B drug.
Scott Stewart, from Prestatyn, was given a suspended jail term.
The judge said the drug's availability had become a matter of great concern in north Wales.
Judge Parry said that it was a seriously aggravating feature that Stewart had the drug outside Rhyl's ZuBar which the defendant knew was highly popular with young people looking "for highs".
"If they are available because people like you are prepared to profit, they will take those drugs," he said.
The judge said that it was clear from the texts on Stewart's phone that he was aware of the danger that people taking the drug could die.
Out of character
But he said Stewart had no previous convictions, was only 19, sold to people already using the drug and who had not been corrupted by him, had not held a stock of drugs, and was in work.
The judge also said it was a long time since he had read references of such quality on a defendant.
He had clearly acted out of character, said the judge, and the inevitable custodial sentence could be suspended.
Stewart received a 51 week sentence, suspended for 18 months. He was ordered to do 300 hours unpaid work.
He was placed on a three-month curfew but the judge agreed that the tag should be effective between 11:30 and 05:30 GMT because of his unsocial working hours.
He was banned from all licensed premises, apart from his work, over Christmas and New Year, until 7 January.
Gareth Parry, prosecuting, said that the defendant had been observed outside the club, and MCAT was found in his boxer shorts when he was searched.
It only had a £20 street value but texts found on his mobile were indicative of drug supply.
Some texts were requesting MCAT, and others showed that he was offering it for sale.
The court also heard Stewart was a heavy user of MCAT and that he had supplied it to fund his own habit.