Loan shark concern after floods hit north Wales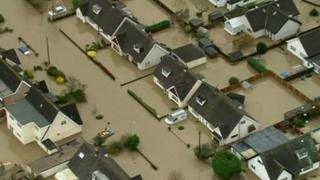 An AM has given her backing to discounted loans being offered by a credit union to help people hit by floods in north Wales last week.
Ann Jones is concerned loan sharks may target people needing help "to start rebuilding their lives" after 400 homes were flooded in St Asaph.
Not-for-profit North Wales Credit Union is offering a rates discount for repairs loans.
It was set up last year after combining five of the region's six credit unions.
Ms Jones said: "This is a great example of our own local banking co-operative stepping up to the plate and reacting quickly in order to meet the needs of local people.
"Given the shocking scenes we've witnessed over the last week and the desperate situation some people find themselves in, I am concerned that illegal money lenders may target those who are seeking financial help.
"People must avoid using these loan sharks as in some extreme cases they've been known to charge extortionate rates of interest and they feel no guilt about their immoral dealings even when it can lead to a life of financial ruin for some families."
'Financial impact'
This week Prince Charles met victims of the flooding in the tiny city of St Asaph where many will not be able to return to their homes for some weeks.
North Wales Credit Union, which has several offices across the region, has created a specific loan fund to support the initiative.
It will offer a 5% APR discount on repair loans and give free life insurance cover on every loan.
Chair John Killion said: "One of our offices was, in fact, set up to help people manage the financial impact of coastal floods, so we have been very close to this issue for quite some time."
Earlier this year BBC Wales reported that the credit union has seen lending increase by 20% over the last year to £2m among its 10,000 adult members. There are also 2,000 junior members.
The Welsh government launched a £4m programme in 2010 to help credit unions increase support to people, saying they offer safe alternatives to loan sharks.