Haydn Evans drowned in Carden Park Hotel lake, inquest told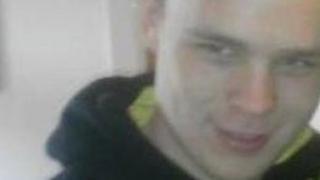 A teenager drowned in the lake of a luxury hotel after being thrown out of a Christmas party over a scuffle, an inquest has heard.
Haydn Evans, 18, from Mold, Flintshire, was missing for two weeks before his body was found in the lake at Carden Park Hotel, Cheshire, in December 2011.
An inquest jury at Warrington Coroner's Court heard that Mr Evans, a labourer, had been thrown to the dance floor after trying to grab a female guest.
The hearing will resume on Friday.
He was at the hotel with colleagues, including his father Graham, for their Christmas party on 16 December, 2011.
He was described as well liked and hard working by fellow employees at MPH Construction.
The teenager was drinking lager and vodka mixed with an energy drink and dancing when he became involved in a dance floor incident, the inquest heard.
Witness Dr Maeve Kenningham, a dermatologist at Wrexham Maelor Hospital, was with a separate group at the dinner and disco.
She said: "He was bopping along and smiling and he approached me.
"The song involved grabbing or something or other, and he grabbed me, which I declined. It was all good-natured, nothing aggressive whatsoever."
A short time later, she said, she saw Mr Evans on his hands and knees, adding: "He was on all fours and another man was in the process of kicking him to his head, at which point Haydn got up and walked away from the dance floor.
"I had concerns about a head injury so watched him go through the doors leading out of the room. I went out but couldn't find him."
Adam Crutchley, a salesman from Sale, Cheshire, said Mr Evans grabbed hold of his girlfriend, so he "put him to the floor" using a judo move.
Apology
He denied punching or kicking Mr Evans, saying he used his foot and arm to force him to the ground.
"He jumped straight back up and offered his hand to apologise, so I shook his hand and said 'let's forget about it'."
Mr Crutchley said shortly after he saw his boss and Mr Evans appearing to have an argument, so he went over.
He said: "Haydn whispered to me something: 'Come outside and I will slash your face'. So I put him to the floor and went to get security."
Mr Crutchley was unable to find the hotel's security staff but by the time he returned, he was told Mr Evans had been escorted out.
At about midnight, Mr Evans' father and colleagues gathered to wait for a minibus home, and realised he was not there. After searching, they assumed he had taken a taxi home.
Extensive searches
The next day, Graham Evans reported his son missing.
Despite extensive searches, his body was not found until 30 December, when it was spotted by sonar equipment.
Pathologist Dr Alison Armour said the cause of death was drowning, and there was no evidence of injury.
Toxicology tests found 213 milligrams of alcohol per 100 millilitres of blood in his system. The drink driving limit is 80 milligrams.
Dr Armour said the alcohol "didn't directly cause his death but it may well have affected his behaviour or caused him to stumble or fall".
Mr Evans also had a "metabolite" of cocaine in his system, which the pathologist described as low level and consistent with prior use, and it played no part in his death.