Denbighshire votes for extra sites for local development plan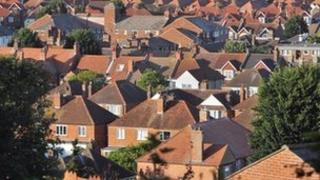 Denbighshire council has voted to adopt 21 potential sites for 1,000 new homes in its local development plan.
They were proposed after a government inspector said insufficient land was allocated to meet the original target of 7,500 homes by 2021.
A report warned the inspector could declare the LDP "unsound" without the extra sites.
Opponents claim homes in some new locations would add pressure to local traffic, water and power supplies.
Villages earmarked for more homes include Bodfari, Llanarmon, Llanbedr DC, Dyserth and Cyffylliog.
The largest site is at the former HM Stanley Hospital in St Asaph where 172 extra houses are planned.
Last week's flooding of the recently built Glasdir estate in Ruthin prompted concern about its choice of a location for housing and the quality of flood defences.
But only one of the newly earmarked sites - at the corner of Sydenham Avenue and West Parade, in Rhyl - is in an identified flood plain.
A council spokesperson said most of Rhyl is in a flood plain and given the regeneration initiatives, they did not want to prevent all new development in the town.
The spokesperson added: "Although in a flood plain, it is in parts defended [recent sea defence works completed, although Phase 3 is still to be commissioned] and as a brownfield site Welsh government guidance does not preclude redevelopment [i.e. it is not a greenfield site where the arguments would be very different].
"None of the greenfield sites being put forward are in a flood plain."
Traffic problems
The two proposed sites which have prompted the greatest opposition are those for 104 properties alongside the former Ysgol Tirionfa in Rhuddlan, and for 150 properties on two sites off Ruthin Road in Denbigh.
Rhuddlan residents say any development would put pressure on local services, while people living near the Denbigh sites argue that traffic problems will be exacerbated, saying other brownfield sites near the town centre should be developed first.
Speaking before councillors considered the merits of the 21 sites on Tuesday, councillor Eryl Williams, the lead member for the development plan, said: "We don't believe it will be necessary to use them under the terms of the local development plan but we are being charged by the inspectors to find the extra spaces.
"We are damned if we do and damned if we don't in this matter."
The Denbighshire LDP examination process is continuing and further hearing sessions will take place at Rhyl Town Hall in January.