Deeside and Yale colleges merge as Coleg Cambria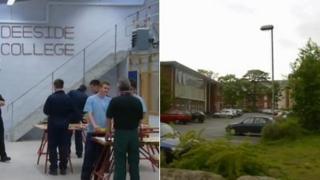 The new name for two colleges which are joining forces in north east Wales is Coleg Cambria.
The merger between Deeside College and Yale College was announced earlier this year.
The new college's principal and chief executive David Jones said the name reflected their pride in Wales.
The institution will take over running of the colleges' current campuses at Deeside, Northop, Llysfasi, Wrexham Training and Yale.
"We consulted extensively with students and staff across the current colleges, and we received over 30 suggestions," said John Clutton, chair of the shadow board of the new college.
"The name Coleg Cambria, which was approved by the board at its most recent meeting and has been submitted to the Welsh government, was a suggestion made by a member of staff."
The college's newly appointed principal/chief executive David Jones said: "We have chosen a Welsh only name that celebrates how proud we are to be a Welsh college."
Mr Jones said the new college would be one of the largest colleges in the UK with over 7,000 full-time and 30,000 part-time students.
"We wanted a strong name that people can recognise.
"We have very ambitious plans for our new college ... and we are confident that the name Coleg Cambria is clear, easily pronounceable, strongly associated with Wales, and will serve us well," he added.
Another round of consultations is currently underway to create a new logo which will be revealed in April.