Wales floods: Glasdir defences 'met planning conditions'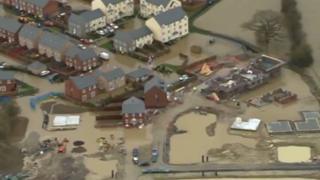 Officials investigating the devastating flood which overwhelmed a Denbighshire estate say the defences appear to have met planning conditions.
But they say it remains unclear why the water overran and inundated the Glasdir estate in Ruthin on Tuesday.
Council and Environment Agency officials say they hope interim findings will be available next week.
Floods hit several areas of north Wales, including St Asaph, where hundreds of properties were deluged.
In St Asaph the river Elwy burst its banks and a 91-year-old woman, Margaret Hughes, died in her flooded home. The provisional cause of her death has been given as drowning.
Denbighshire council said final answers from its joint investigation with the Environment Agency into the Glasdir flood would not be due for several weeks.
However, it said the interim findings in a few days would "determine whether temporary measures would be helpful to reassure residents".
The council said it would discuss those findings with the estate developer, Taylor Wimpey, "to identify what kind of assistance they could offer".
In a statement, the council said: "The organisations are working together to find out the cause of the flooding, why the flood defences did not work as well as they should have and what steps can be taken to reduce the risk of any further flooding.
'Detailed modelling'
"Detailed surveying and modelling of the flooding is taking place to understand the root cause of the floods.
"Early indications in the investigations show that the flood defences and flood mitigation measures implemented at Glasdir (the bund [embankment] around the site and the minimum finished floor levels for the properties) appear to be in line with the conditions required as part of the planning process.
"What is not yet clear is why the flood water overtopped the defences that were put in place. The detailed modelling of the flood waters will help to answer this question."
The council said any further comment at this stage would be "pure speculation" and more statements will be made when the investigation is finished and after a "full debrief".
Glasdir residents have said they were told the chances of it flooding were once in 1,000 years.
It has led householders to ask if there were enough safeguards when the estate was built.
Taylor Wimpey has said it was told that flood defences were already on site. Planning permission for the estate was given by Denbighshire council.