Airbus worker Adam Roberts 'exaggerated injury claim'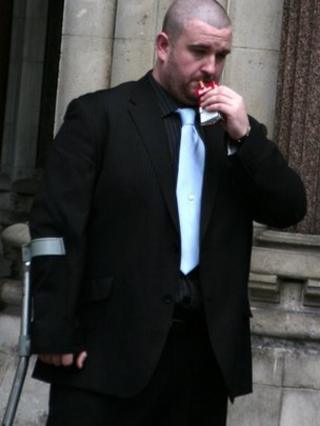 A former worker at the Flintshire Airbus factory was filmed carrying out a house renovation after allegedly exaggerating an injury at work, the High Court has been told.
Adam Roberts claimed an estimated £250,000 in compensation for back injuries that forced him to walk with a crutch, the court heard.
Mr Roberts, 33, of Neston, Cheshire, denies any wrongdoing,
The two judges reserved a decision on whether he is contempt of court.
A former aircraft technician at the company's Broughton plant, Mr Roberts claimed compensation from his employers, Airbus Operations Ltd, after a slipping accident in October 2007.
He claimed the incident left him so badly disabled he needed his wife to put his socks and underwear on.
William Featherby QC, for Airbus, told the court the company initially admitted liability and paid Mr Roberts £8,000 on account.
However, their suspicions were aroused and investigators were instructed to observe his day-to-day activities.
The court heard that he was covertly filmed in June 2011 by insurance investigators and was working "hard and cheerfully on a house renovation" where he was spotted "skipping," carrying a bath and a toilet and throwing a roll of carpet into a skip.
The barrister showed the judges a DVD of Mr Roberts, saying it showed him on his feet and working for an hour-and-three-quarters with laughter.
He said Mr Roberts was bending and twisting and repeatedly carrying heavy objects, and the DVDs depicted him carrying full rubble sacks, a bath and a toilet.
In the film, he hoisted a roll of carpet on his shoulder and hurls it into a skip, stamped on the contents and bent to smash items with a hammer.
Mr Featherby said: "The surveillance evidence shows Mr Roberts to be a fit, well-muscled man, working hard, cheerfully and without any sign of pain or disability.
"He is clearing a house in Ellesmere Port, obviously as part of a refurbishment project.
'Colossal and irreconcilable difference'
"The activity seen in the surveillance evidence could hardly be in greater contrast to the picture of misery and disability Mr Roberts painted in his claim."
He criticised the "colossal and irreconcilable difference between the complaints Mr Roberts made for the purposes of gaining compensation and the reality as demonstrated in the surveillance evidence".
He added: "He so outrageously exaggerated his symptoms in a claim for damages for personal injuries that his conduct was fraudulent, criminal, in contempt of court and ought to be punished."
Craig Sephton QC, for Mr Roberts, denied he did anything wrong and disputed that the DVDs are "indicative of his capabilities generally".
He said Mr Roberts was carrying out an urgent family favour, adding: "On that day, his mother required urgent assistance which he was only able to give by taking substantial quantities of pain-killing medication and at the cost of several days subsequent pain and incapacity."
Giving evidence, Mr Roberts said he slumped into depression and became "suicidal".
'Trouble coping'
"I could no longer do the things I used to with the kids and I was having trouble coping with it," he added.
He told the court his injury forced him to leave his job as an aircraft technician in November 2010 and get office-based employment.
The court heard how the medic who examined Mr Roberts for insurance purposes reported after seeing him: "I watched him walk away with a pronounced limp which settled the further he walked away from the building. The use of the crutch was minimal".
Mr Roberts said the assessment was a "pack of lies", adding that his "knee gives way once or twice every ten steps".
The court heard Mr Roberts' neighbour does his gardening for him.
Mr Featherby said: "Do you use your crutch to deceive your neighbours that you are a disabled man so nobody spills the beans to the social security?"
Mr Sephton, defending, said the judges should hesitate to find Mr Roberts guilty of contempt of court and trying to pervert the course of justice, because: "It comes to whether they [prosecutors] have proved intention."