Wales floods: St Asaph victims' homelessness fears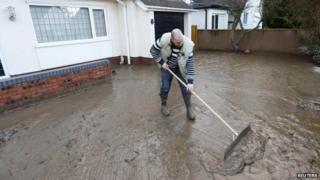 It is the day after the worst flooding in north Wales for generations, and some residents say they will be lucky to return to their homes before Christmas.
But retired cleaner Muriel Teague summed up the spirit of the 30 or so people taking refuge in a rest centre at St Asaph leisure centre.
"I am 72 and homeless for the first time in my life," she said.
"What good would it do to sit down and cry?"
She recounted to fellow flood victims the irony of buying a goldfish two days before the flood water powered into her home. She does not expect they will be there when she returns.
Her family helped her to remove what possessions they could carry above their heads as they left the house in waist-high water.
It has been her home for 52 years and she has never suffered flooding there before.
"We are lucky if we are back before Christmas," she said.
In a small group of people surrounded by donations of clothes, toiletries and food, people are talking of the Dunkirk spirit and unity.
A neighbour helped Mair Dowell to get herself and her two dogs to safety.
"They have been so good here," she said, admitting she returned to her home to see a scene of "devastation."
It was a similar story for pensioners Ivor and Envoy Nethercot.
"It's a hell of a mess," said Mr Nethercot, who returned to survey the damage at his home on Roe Parc on Wednesday morning.
'Calm and dignified'
"The water has gone everywhere. The fridge is on its side. I don't know when we will be back."
The couple were chatting with volunteer helper Jeanette Chamberlain-Jones, who also chairs Denbighshire council.
She described the mood as "calm and dignified," and the group talked of wartime experiences and the same Dunkirk spirit that surfaced this week.
The councillor explained how the older women among the crowd assembled in the leisure centre were unwilling to accept gifts of toiletries and clothing.
"They don't like to take anything for free," she said. "It has been a humbling experience," she said, referring to people's strength and the generosity of others.
Mrs Teague adds: "There was no you and me. It was us," referring to the flood evacuation on Tuesday.
Comfort and food
Red Cross workers and Denbighshire council staff are offering comfort and food and trying to find long-term housing solutions for the evacuees.
Some have been given accommodation at the Robin Hood holiday camp, near Rhyl and others have been put up by others unaffected by the floods in St Asaph.
The RSPCA has helped to rehouse home owners' pets, including dogs, cats, guinea pigs and birds.
Ms Chamberlain-Jones says: "People are now in that in between stage.
"Some people think they may be able to go back, but we don't yet know the extent of the problems."