Anger as Ruthin's Glasdir estate hit by floods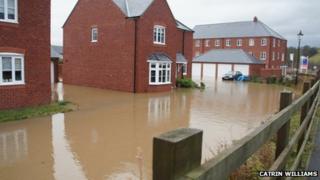 Officials say it is too early to speculate about the cause of flooding on a new-build estate in Denbighshire where residents claim they were given assurances their homes were safe.
Homeowners at Glasdir, Ruthin, evacuated properties after being alerted by a postman who spotted river levels rising dangerously high.
Nearby St Asaph was hardest hit on Tuesday where 500 homes were evacuated.
The local AM said it was disappointing families were not given more warning.
Glasdir estate homeowner Phil Jones said: "We have documentation saying that the chance of flooding actually occurring was one-in-a-1,000 years.
"Of course the more serious question is what happens in terms of not just next year but the next few months?"
Clwyd West AM Darren Millar paid tribute to the work of emergency services for their fast response.
They discovered the body of an elderly woman in a property in St Asaph while evacuating flooded homes.
Mr Millar said: "Whilst we cannot prevent extreme weather conditions, we should be able to reduce risk through flood defence improvements and provide adequate flood warnings to those at risk, so it's particularly disappointing that the Environment Agency's flood alert system did not seem to provide timely warnings for some households, particularly in Ruthin."
The Environment Agency has been asked to comment.
Ruthin resident Catrin Williams added: "The land has always been marshy so I don't know why they built a housing estate there.
"I have friends who live there and they have suffered damage to their house."
A Denbighshire council spokesperson said: "We understand there are concerns about the Glasdir estate and of course our thoughts are with the families that have been affected.
"It is too early to speculate about the cause of the flooding and our priority at this moment in time is to deal with the operational response to the flooding and providing the community with support."
Councillor David Smith, lead member for Denbighshire council on flooding, says an investigation must be held into why floods hit the new estate.
"They were assured that it wouldn't flood and it has flooded," he told BBC Radio Wales.
"There has got to be a post mortem. Whose fault is it?"
A spokesperson for builders Taylor Wimpey North West said two directors had been on-site cooperating with the emergency services on Tuesday.
"Our primary concern is for the immediate health and safety of our residents at Glasdir and the wider community in Ruthin," said the spokesperson.
"Although extensive flood defences were implemented prior to our ownership of the site, due to the unprecedented volume of rainfall, Ruthin like several other areas of north Wales has been severely affected.
"We have organised additional resources to assist residents with the initial clean up, and will address any issues that arise once we know the full scale of the problem."