Ched Evans Twitter case: Mark Sweetman fined over photo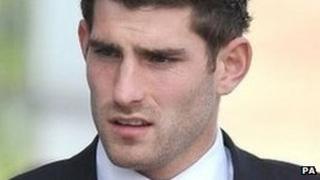 A man who boasted about making money from a photo he took in a magistrates' court of defendants during a high-profile case has been fined.
Mark Sweetman took the photo at Prestatyn when nine people admitted naming footballer Ched Evans's rape victim on Twitter and Facebook.
Sweetman, of Rhyl, Denbighshire, admitted taking a photograph of court proceedings without consent.
He was fined £110 and ordered to pay costs of £100 by Prestatyn magistrates.
Sweetman was arrested when people sitting near him at the court on 5 November said he was apparently using his mobile phone to film the proceedings, the court heard.
During that court hearing, nine people were told to pay £624 each to a 19-year-old woman raped by Evans, the former Sheffield United and Wales striker, after they admitted naming her on Twitter and Facebook.
One of the women denied the charge and was granted bail until 21 January.
'Stupid'
Evans was jailed for five years earlier this year for rape.
James Neary, prosecuting, said Sweetman had attended court to support a friend who was among the defendants.
Sweetman was seen holding up his Blackberry mobile phone and saying: "These are going on Facebook. I'm going to tag the lot of them," the court heard.
He told people sitting near him that he was going to get some money from the press for the photographs, the court was told.
Andy Hutchinson, defending, said his client accepted that he had been stupid in doing what he did and had admitted it immediately.