Mandy Williams, 45, becomes grandmother twice in a day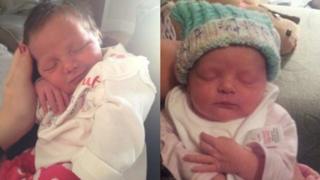 A 45-year-old woman from Wrexham has become a grandmother for the first time and second time on the same day.
Mandy Williams' daughter, Hannah, and her son Daniel's partner, Jade, both gave birth within yards of each other at Wrexham Maelor Hospital.
Mrs Williams said: "I was so excited to become a nana, but two on the same day was amazing."
Cousins Mabli Elin Stokes and Hallie Rose Jones are both doing well, and went home on Saturday.
The double birthday was more of a coincidence as Hannah had her baby a fortnight early.
Although slightly shell-shocked, Mrs Williams said she saw it as double bubble rather than double trouble.
He said: "I knew it was going to be close as soon as they both told me they were pregnant, though the odds of them coming on the same day seemed so remote we hadn't really even considered it.
"When Hannah rang me to say she was in labour in the early hours of Friday morning l knew it would be close as Jade was being started off that day.
"But when we were all on the labour ward at the same time it was fantastic.
"I was at the birth of Mabli but due to the fantastic staff on the labour ward l was also kept informed of Jade's progress and my son was able to pop in and see Mabli when she was born.
"It felt like a real family occasion.
"I was so excited to become a nana but two on the same day was amazing.
"I am now looking forward to Christmas with two gorgeous grandchildren and many joint birthday parties to look forward to."
The careers adviser added: "I keep telling everyone 'I'm only 45, I'm not old enough to have two grandchildren'.
"Talk about chucking me in at the deep end, Christmas has just got twice as expensive.
"But when you see the two of them, nobody could be in any doubt, they're worth every penny… and every wrinkle."