Paramount Foods on Deeside: Future 'bleak' as pizza jobs go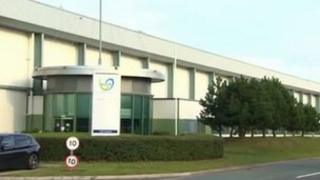 The future is "pretty bleak" for 200 workers who will lose their jobs when production stops at a pizza factory next week, a union representative says.
Paramount Foods on Deeside Industrial Park in Flintshire went into administration last month and nearly 120 people lost their jobs initially.
A deal to sell the firm has now fallen through, leading to more job losses.
Mark Jones of GMB union said he was concerned about what other jobs were available in the local area.
He said the workforce would be offered support and given help to find out about about other employment or re-training opportunities by organisations such as Careers Wales.
But he added: "I do worry for people there in terms of what work is available in the locality for them to find.
"I think it's pretty bleak for them."
Mr Jones, regional organiser for the GMB, said he had contacted local politicians to see if there was any way the sale of the factory could be salvaged.
Meanwhile, he said the workers would "carry on" until the factory closes.
"They have been struggling since the administrators came in with regards to the doubt of whether or not the business would continue," Mr Jones added.
The workforce was told by the joint administrators Duff and Phelps that production would end on 30 November, according to the GMB.
Production at a sister plant in Salford, which bakes the pizza bases, will end on Wednesday.
Paramount Foods employed 312 people on the Deeside Industrial Park.
It went into administration after losing a major contract.
The firm is one the UK's largest producers of chilled and frozen pizzas.
Paramount had moved to Deeside in 1998 with plans to become one of the largest pizza-making centres of Europe, after taking over a mothballed Heinz sauce manufacturing plant.
Flintshire council has said it will do what it can to support local workers who need to find new employment.