Euticals: Flintshire council letters over chemical find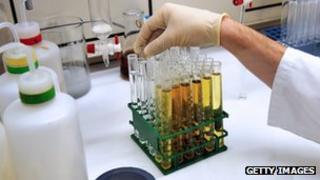 Thousands of letters are being sent to residents and businesses after concerns were raised about potentially explosive chemicals found at a factory site.
Flintshire council has written to 3,000 residents in Sandycroft following the discovery at a pharmaceutical company.
It follows an inspection of Euticals Limited by the Health and Safety Executive and Environment Agency Wales.
The company said it was co-operating fully with all the other agencies involved, including the police.
It discovered a substantial quantity of the chemical ISDN, which is used for drugs to treat angina patients.
The firm has been manufacturing ISDN for more than 35 years.
The company has suspended production of the chemical and is expected to release further information later.
The action followed an inspection at the Euticals plant following an incident two weeks ago, when three workers were taken to hospital following a chemical spill.
The chief executive of Flintshire council, Colin Everett, said site security at the Euticals site had been increased and an operational plan was being drawn up by the company to address public safety concerns.
"This is because a substantial quantity of potentially explosive pharmaceutical material - Isosorbide Dinitrate (ISDN Pure) - has been identified on the site following a recent joint inspection by the Health and Safety Executive (HSE) and Environment Agency Wales," explained the council officer.
'Managing risks'
"Euticals Limited has temporarily ceased its operations pending laboratory analysis of the material and a permitted plan for its treatment and/or removal from the site to reduce the risk to public safety."
The council said it was contacting nearby residents and businesses to advise them on any specific safety measures they may need to take.
"Euticals is co-operating with the statutory agencies, including Flintshire County Council, the Health and Safety Executive, Environment Agency Wales, Police, Fire, and Health Agencies, who are working closely together to monitor and regulate the situation," added Mr Everett.
"The statutory agencies are providing advice to Euticals Limited to assist it in managing the risks."
Euticals director Timothy Dowd said there was a process involving the local authority, police, fire, ambulance service, the Environment Agency, health boards and the Health and Safety Executive.
He said the company was co-operating fully with all the other agencies involved.
"We have been manufacturing ISDN for 35-plus years," he added.
Mr Dowd said the company hoped to release information to the public later.
An inspection was carried out after an incident a couple of weeks ago when one operator collapsed. Mr Dowd said the operator was found unconscious and two colleagues took him to an emergency shower.
All three were taken to hospital - the two colleagues as a precaution - and were discharged the following day, Mr Dowd added.
He said the company had to stop all production, and security guards had been brought in.