Olympic dream for table tennis twins Angharad and Megan Phillips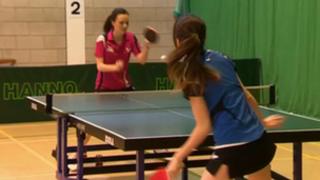 Table tennis playing twins from Denbighshire are pursing their dream of getting to the Olympic Games.
Angharad and Megan Phillips, 18, have given up university places to focus on their game.
They train in countries such as Romania and Germany where they say the standard of competition is higher.
The twins represented Wales at the 2010 Commonwealth Games in New Delhi and are currently targeting the next Commonwealth Games in Glasgow in 2014.
Angharad, the younger twin by one minute, said: "We both had places at university but we can always go back to that - but we'd never be able to regain this standard in table tennis if we took a break."
Between them they gained a total of four A grades and two A* grades in their A-levels, but say academic work could get in the way of training.
"It's definitely a big step up going full time because normally when we'd have school we'd have to cut back our training around the time of exams, or say we had a load of course work or homework to complete.
"Now table tennis is our only focus so everything revolves around training and competing," Angharad added.
Sporting talent runs in the family as the girls' father Tegid played football for Wales under-19s.
Their grandfather Les Phillips represented Great Britain in the discus while their uncle John Phillips represented Great Britain in the triple jump.
More recently their cousin Ben Lovell was crowned Welsh mountain biking champion.
Megan said she was inspired by her family while growing up.
"When I was young and discovered so many of my family had represented Wales and Great Britain I was in awe, so it made me want to do something similar," she said.
They say missing out on London 2012 has increased their determination to reach Rio 2016.
Before that however there will be two years of hard work preparing for the Commonwealth Games in Glasgow in 2014.
"It would mean the world to us to get to Rio because it would just mean that all of the years of hard work and commitment and having to make sacrifices would be worth it," added Megan.