Catherine Gowing murder: Search continues despite remains found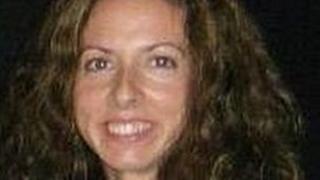 Detectives investigating the murder of vet Catherine Gowing say the search continues despite the discovery of some remains.
The 37-year-old, from New Brighton, Flintshire, disappeared on 12 October and remains were later found in a pool at Sealand and also on the banks of the River Dee in Chester.
Clive Sharp, 46, from Bethesda, Gwynedd, has been charged with her murder.
Ms Gowing worked at a practice in Mold.
Sgt Neil Parkes from North Wales Police said: "The search for Catherine Gowing is the largest search operation conducted by North Wales Police.
"The terrain has been extremely challenging involving large areas of woodland, disused quarries, water courses, cess pits and other open areas.
"We are also searching houses and vehicles with each receiving its own sequential search sector."
Officers have searched more than 30 individual areas and 15 separate water area, including ponds, lakes and the River Dee.
Ms Gowing was last seen at approximately 20:40 BST on Friday 12 October when she was filmed on CCTV leaving an Asda supermarket in Queensferry.
Her burned-out car was found near a disused quarry near her home a week later.
Anyone one with information is asked to call North Wales Police on 101 or Crimestoppers on 0800 555 111.