Holywell town hall revamp and High Street trade 'boost' hope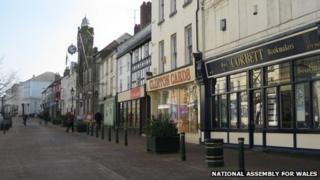 A police station has opened in an old town hall alongside other public sector organisations in a drive to regenerate a town centre.
About 12 officers will share the premises in Holywell with workers from Flintshire council among others.
The move is designed to centralise services and help bring more visitors into the town centre.
The council has pledged to do the same at Flint, Connah's Quay, Buckley, Mold and Saltney.
North Wales Police has relocated from its Halkyn Street station in Holywell to the newly named Flintshire Connects centre in the pedestrianised town centre.
The building will be open six days a week, including Saturday mornings.
It has been revamped in recent weeks ahead of its official opening later this month.
Job centre
Residents will be able to access county council services, among others.
The council is in talks to open a Job Centre Plus office at the town hall with nearest facilities currently in neighbouring Flint and Rhyl.
A spokesperson for the Department for Work and Pensions said it was keen on the idea and was considering the proposals.
One of Flintshire's new-look Communities First groups will also be based at the office.
Last week it emerged it has just received a slice of £1.7m in funding to improve employment, education and training opportunities for local people.
Deeside College has also moved into the office providing a range of short courses and taster sessions for local people and employers.
"In addition to improving access for local people to key services on which they depend, we hope the new centre will also boost the regeneration and vibrancy of Holywell town centre," said Councillor Billy Mullin, Flintshire's cabinet member for corporate management.
The centre in Holywell will be officially opened by Councillor Carolyn Thomas and Chief Constable Mark Polin on November 30.