Convicted gambler David Collins stole £72,000 from father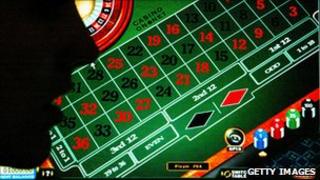 An online gambler previously jailed for stealing from customers at the bank where he worked took over £70,000 from his father's accounts when he moved in with him after release from prison.
David Collins, from Rhyl, Denbighshire, took £10,000 from one account before his father discovered and promised to repay him, Mold Crown Court heard.
But he was actually paying his father Michael back with his own money by stealing from a different account.
Collins, 23, was jailed for two years.
The court heard that Collins, who pleaded guilty to six charges of fraud, was jailed in 2010 for stealing from bank customers' accounts and from his father.
When released from prison, his father forgave him and let him live with him, as well as giving him money.
Collins started stealing from him again, and when confronted promised to repay the money, so his father did not contact the police.
However Collins stole the repayment money from a different account, totalling £72,000 in total.
The court heard that the defendant spent £51,000 on online roulette, sometimes spending up to £3,000 per day.
Collins had been jailed the first time in February 2010 for 21 months and was released in August that year, so was still on licence when the offences were committed.
Judge Rhys Rowlands told him he was "biting the hand that fed you".
"Having apologised to your father, he forgave you and allowed you to move back to live with him. He gave you money to help you where you were struggling to find work," he said.
'Prey to self-deception'
"Your expressions of remorse had a rather hollow ring to them. You repaid his generosity by assuming his identity and withdrawing significant sums of money from his bank accounts."
The judge added he "had the gall to apologise again and to repay him - while all you were doing was taking money from another account to pay him back."
Michael Collins made a witness impact statement saying he wanted his son to receive help but feared he could never trust him again.
"If he had spoken to me and told me he needed money I would have tried to help him myself. He didn't need to steal," he said.
"I worry that if the banks had not informed me then he could have taken everything and moved abroad without telling me," he said.
"He is my son and I want to help him. I hope he gets the support he needs."
Tony Rose, defending, said Collins was "prey to the self-deception that if he carried on gambling then ultimately he would win and be able to pay back the money he had taken from his father's accounts."
He had been to Gamblers' Anonymous and had not placed a bet since January.
The court heard he was now working to support his partner and son, and his partner had taken control of their finances.
He expressed remorse and shame for his behaviour. "He knows it has to be prison," said Mr Rose.