Flintshire council schools shake-up consultation starts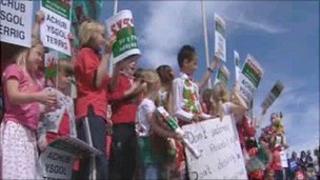 A second round of consultation starts on Monday over Flintshire council's plans for a radical shake-up of education in the county.
A new high school and primary may be built in Holywell under revised proposals for restructuring education.
Connah's Quay High School could become a hub for post-16 education while in Buckley Elfed High would be reduced in size to 600 places.
The rethink comes after previous plans led to protests from parents' groups.
Now, two weeks of consultation has started with a number of events being held in each affected area.
A council spokesperson said: "These events are to make sure that the views of parents, students, governors, staff and unions are heard and to help the council decide whether to progress to the formal statutory stage and publish a single option for each of the three local areas.
Surplus places
"Councillors committed to undertake a second stage of consultations before making any final decision."
Invitation letters have been sent to parents who have pupils in schools that may be affected.
And people can also take part in the consultation via the council website.
School reorganisation plans were first discussed in 2011 with Flintshire council saying there were three high schools - Holywell, Elfed in Buckley and John Summers in Queensferry - where surplus places were now over 25%. The proposals include:
In Holywell, a new high school would be built as well as a new primary to replace Ysgol Perth y Terfyn and Ysgol y Fron.
At Deeside, John Summers High School would continue for children aged from three to 16, while Connah's Quay High School would become a hub for post-16 education.
In the Mold, Buckley and Mynydd Isa area, Elfed High School in Buckley would be reduced in size to 600 places, with parts of the school building given a new community use. Post-16 pupils could move to nearby Mold Alun among others.
The changes at Elfed school would free up space which could be used for other things.
Part of the school already includes the town's public swimming baths and leisure centre.