Denbighshire 1,000 new homes plan raises concerns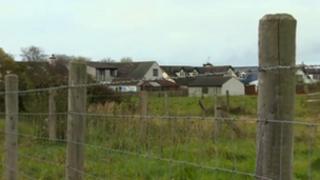 Community leaders have met to discuss concerns about plans to increase the number of proposed sites for new homes in Denbighshire.
Originally the local development plan (LDP) allowed for up to 7,500 houses, but space for 1,000 more is now needed.
The revised figure is due to planning inspectors saying the county will have a shortfall of new homes by 2021.
Local people say it will place extra pressure on local communities, schools, health and transport.
The Denbighshire LDP examination process is still underway, although the closing date for comments was 6 November, with the matter next scheduled to be discussed in January.
Villages earmarked for more homes include Bodfari, Llanarmon, Llanbedr DC, Dyserth and Cyffylliog.
Eiddwen Watkin, who lives near one of the proposed sites in Brookhouse near Denbigh, said: "There's concern about the number of cars which will use the roads, and the distance from here to the town for people wanting to access schools and shops.
"The area is also not on main sewage so a pumping station would have to be built to take water away," she added.
Arwel Roberts, the Denbighshire county councillor for Rhuddlan, said the infrastructure for an increase in population was not in place.
"All these people will want to use the same services as those who are already here and the system will simply not to be able to cope."
Tranquility 'undermined'
However, those who have worked on the plan argue otherwise.
Councillor Eryl Williams, the lead member for the development plan, said a number of the sites had been chosen because they were next to a network of roads.
"There aren't many of them in villages on roads where there isn't a bus services," he said.
"it is up to the community or town council to pass comment and to say whether they want a piece of land included or not."
Llyr Huws Gruffydd, Plaid Cymru AM for north Wales, said there were similar concerns about new housing in Conwy and Wrexham.
"There is a basic question here of how these numbers are decided on, how are the figures reached," he said.
"Because in reality, at the end of the day, this over-development undermines the tranquillity of communities across the length and breadth of Wales, not just in Denbighshire."