Betsi Cadwaladr NHS shake-up worries Denbighshire council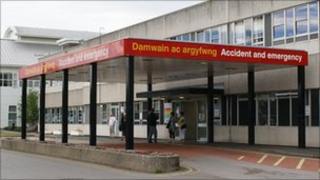 Council leaders in Denbighshire are concerned a local NHS shake-up could leave the authority with extra costs.
Last month Gwynedd council called for a halt to proposals including community hospital closures in north Wales.
Denbighshire says it hopes health board managers do not plan "cost-shunting" with changes in community care meaning the council has to pick up the bill.
Betsi Cadwaladr University Health Board (BCUHB) said it was grateful for the council's "thorough consideration".
Its plans have proved controversial but officials maintain changes under discussion are about improving care, not cutting costs.
Under BCUHB proposals being tabled, a number of minor injuries units could be closed along with community hospitals, while neonatal intensive care at Denbighshire's Glan Clwyd hospital and others would be moved to Arrowe Park in Wirral.
A statement from Denbighshire council called on the health board to "ensure that no services will close until new services are in place".
'Devil is in the detail'
It wants assurances a minor injuries service will be supported in Llangollen.
And it suggest a hospital hub covering Denbigh and Ruthin is provided as part of the health board's plans to provide better centres of care in centralised locations.
It also highlighted concern about the "impact" of the proposals on carers and "the lack of any funding" to support any additional help for them.
The council said its response had been compiled after in-depth consultation with town, community and county councillors.
"It is clear that the devil is in the detail," said county councillor Bobby Feeley, cabinet lead member for social care.
"The changes proposed are not fully costed at this stage so the implication on council services is not clear but we are clear that issues such as transport need to be considered fully.
"There is the risk that as services are provided more in the community the additional costs will inevitably fall on the council's social care teams."
A BCUHB spokesperson said no decision would be taken until after the results of its public consultation has been considered fully by the health board, probably in December.
"We will work closely with Denbighshire and other services in developing the detailed implementation plans once the board has confirmed whether the proposals will go ahead," said the spokesperson.