Welsh anthem to be sung at Hawarden remembrance service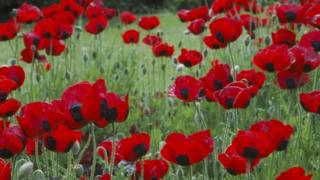 A community council has reversed a decision not to play the Welsh national anthem at a remembrance service.
Hawarden Community Council in Flintshire had said Hen Wlad Fy Nhadau would not be played there on Sunday "out of respect" to the anthem because villagers did not know the words.
However, it will now be sung, with song sheets provided, following criticism.
One villager had said the original decision was a "disgrace". The council said: "We're not here to cause upset".
On Thursday morning, council clerk Noel Barnes said: "Last time we tried to include it was some years ago and it wasn't sung in a manner that was respectful.
"People simply didn't know the words so we decided out of respect for the Welsh national anthem not to play it again."
The council had planned to keep with its tradition of only singing God Save The Queen.
However, after councillors reversed the decision, he said: "Clearly there was a feeling about it ... we're not here to cause upset."
Earlier, one villager, who wished to remain anonymous, branded the decision not to include Wales' anthem a "disgrace to the memory of the Welsh soldiers who fought and died during the war".
He added: "What sort of message does it send to the local school children laying wreaths who are learning Welsh?"